The leader of ISIS, the fanatical Islamists who behead and crucify their enemies, has appeared in his first video, telling Muslims around the world they must obey him.
Abu Bakr al-Baghdadi had already proclaimed himself leader of a 'caliphate' that ISIS declared after seizing large swathes of Iraq and Syria.
The video appears to have been filmed on Friday during a sermon at a mosque in Mosul, Iraq's second city, which fell to ISIS last month as it tore through the country.
If it is genuine, it contradicts reports that Baghdadi had been killed or injured in an attack.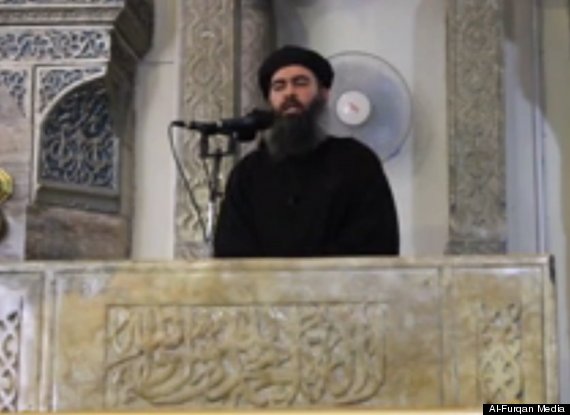 Baghdadi implores Muslims to 'obey' him during a sermon in a Mosul mosque
Wearing a black turban and robe and with a fan behind him to keep him cool, he says: "I am the wali (leader) who presides over you, though I am not the best of you, so if you see that I am right, assist me.
"If you see that I am wrong, advise me and put me on the right track, and obey me as long as I obey God in you."
According to translations, Baghdadi hailed the "victory" which he said had set the stage for the proclamation of the caliphate.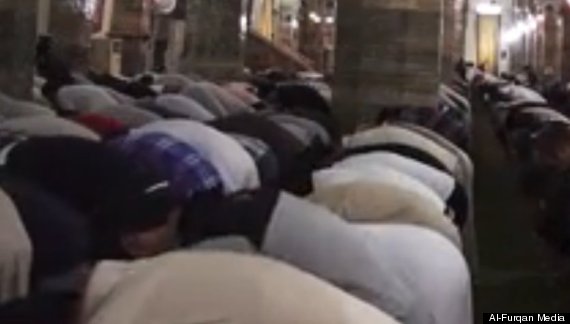 The video appears to show these worshipers attending the sermon
"God gave your mujahedeen brothers victory after long years of jihad and patience... so they declared the caliphate and placed the caliph in charge," he said.
"This is a duty on Muslims that has been lost for centuries."
The video appears to show many worshipers attending the sermon.
SEE ALSO:
Baghdadi is generally regarded as elusive, preferring written statements rather than video appearances.
The video follows a warning from Baghdadi this week that ISIS would march on Rome in its quest to establish an Islamic state from the Middle East across Europe.
"Those who can immigrate to the Islamic State should immigrate, as immigration to the house of Islam is a duty," he said.
"Rush O Muslims to your state. It is your state. Syria is not for Syrians and Iraq is not for Iraqis. The land is for the Muslims, all Muslims.
"This is my advice to you. If you hold to it you will conquer Rome and own the world, if Allah wills."