Holly Willoughby took the chance to congratulate her newly-married best friend Fearne Cotton on 'This Morning' on Monday, sharing a snap of herself and Fearne, taken at the Radio 1 DJ's wedding.
Holly and Fearne, who both star on 'Celebrity Juice', have been pals for years and Holly admitted she shed a few happy tears during the ceremony.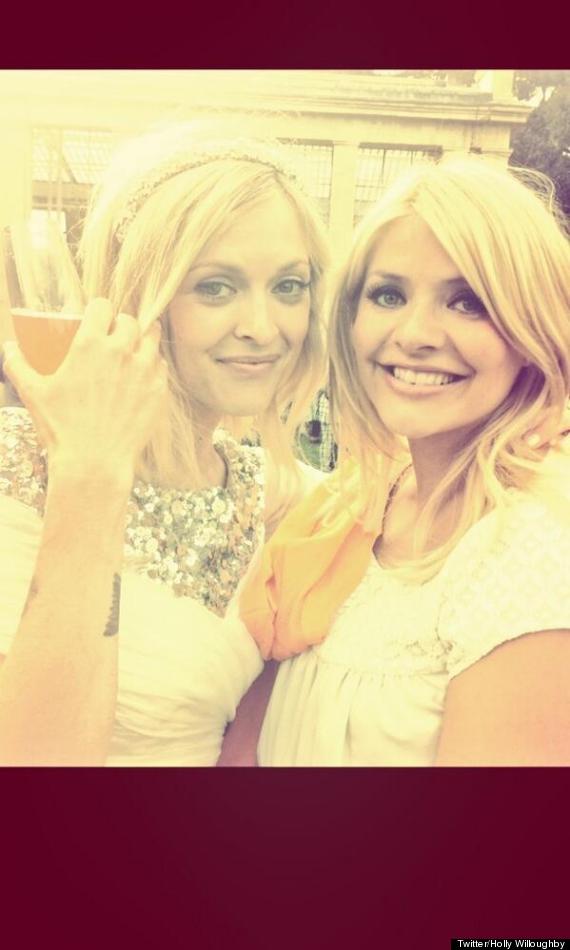 Holly shared a cute snap of herself and Fearne on Twitter
During a chat with Phillip Schofield, Holly said: "I had a lovely weekend watching my best friend getting married! Fearne - who is no longer Fearne Cotton - Fearne Wood!"
Holly added that she thought Fearne looked absolutely stunning on her big day, stating: "It was the most beautiful day - THE most beautiful bride. I just couldn't look at her... I was with Leigh Francis [Keith Lemon] and he said exactly the same thing as me.
"It was almost like you couldn't look at her without crying, because she was so full of happiness and love, she was just scarily beautiful that day," the presenter explained. "She was amazing.
"It took us ages to go up and say hello because I didn't want to touch her because she was so beautiful!"
"I just kept crying constantly as well, and I didn't want to make her cry because I didn't want to ruin her make up - but we both had a bit of a blub!"
Fearne and her new husband Jesse Wood have been together since 2011, and they have a 17-month-old son Rex.
They were joined by a number of famous friends including the McBusted lads and Denise van Outen. Jesse's rocker dad, the Rolling Stones' Ronnie Wood, was also in attendance.
Holly is currently expecting her third child with husband Dan Baldwin and she recently spoke about her plans to work until the final weeks of her pregnancy.
LIKE US ON FACEBOOK | FOLLOW US ON TWITTER