Lewis Hamilton has had a friendly dig at his Formula 1 championship rival Nico Rosberg by jokingly questioning his allegiance to Germany ahead of his home race.
After the drama of the British Grand Prix, where a victorious Hamilton cut the gap to his Mercedes team-mate from 29 to just four points, comes Hockenheim on 20 July where Rosberg will be aiming to put on as much of a show for his fans as Hamilton did for the 120,000 who flocked to Silverstone.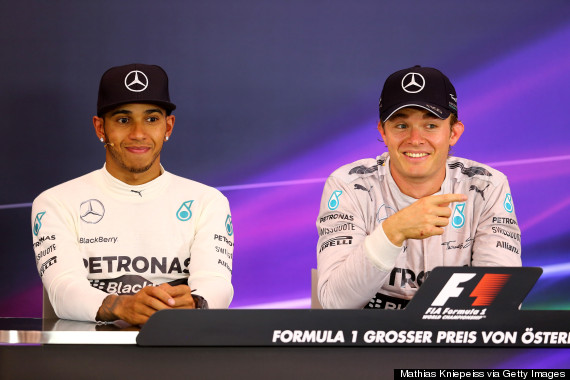 Rosberg points in the general direction of Germany, Hamilton's not so sure
Ahead of the British GP, however, Rosberg had claimed he thought it was more of a home race for the Mercedes team based eight miles away in Brackley rather than for Hamilton.
And now the 2008 world champion has now poked fun at Rosberg - the 29-year-old was born in Wiesbaden to a German mother and Finnish father Keke, the 1982 world champion - but who has spent virtually all his life in Monaco.
Asked how valuable it would be to win the 29-year-old's home race in Germany, Hamilton replied with a grin: "To be honest Nico has never actually been in Germany, so it's not really his home race.
"I remember when we were in karting he didn't stand next to a German flag - ever!
"We had to go on the start line and all the drivers would stand next to a grid girl.
"They would be holding a flag or a sign saying Hungary or whatever, and he always stood by Monaco. He never stood by Germany. I've known him growing up in Monaco, so I know Monaco is his home."
Hamilton at least appreciates Rosberg will likely have more support than previously, with Red Bull's four-times champion Sebastian Vettel struggling this year.
Story continues after slideshow
The Briton added: "He definitely will because undoubtedly he's German, but he's German, Finnish, from Monaco or whatever.
"So he'll get that support in Monaco and Germany, and he's always had great support there. He'll have a busier week there than I will, just like I did ahead of Silverstone.
"But it's always good to beat others on their home turf, so it would be great to win in Germany."
Hamilton will at least head to Hockenheim with a considerable weight lifted from his shoulders.
Approaching his own home race Rosberg had opened up a 29-point lead on Hamilton, whose gross error of judgement in qualifying at Silverstone suggested the Briton was psychologically fractured.
But after reeling in Rosberg again, a happier Hamilton added: "If you are climbing a mountain and keep slipping, with all the hard work and strength you've used to get there and then you fall back a few steps, it's difficult.
"But I'm more relaxed right now because I know that I had good pace and did a good job and won in front of my home crowd, so there's nothing to worry about tomorrow morning!
"I can go to Hockenheim knowing I have great pace and if I do the job I can be ahead (in the title race), and that's awesome."