A baseball fan who fell asleep during an MLB game is suing ESPN and its commentators for $10 million.
Andrew Rector, 26, claims he has suffered emotional distress since he was captured on live television napping during the New York Yankees and Boston Red Sox's April match, and was subjected to an "unending verbal crusade" from ESPN announcers Dan Shulman and John Kruk.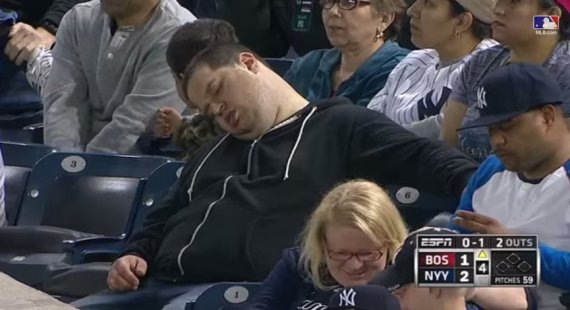 "This is not the place to come if you want some sleep."
Shulman is accused of referring to the New Yorker as "oblivious" while Kruk is accused of saying a ballpark is "not the place you come to sleep".
Their exchange went as follows...
"This guy's oblivious to how good it is."
"Sometimes you have to turn it off to get some sleep, this is not the place to come if you want some sleep. But I tell you what, how comfortable is that? Probably won't have any neck problems tomorrow."
"I mean, is that guy to his left his buddy who's just letting him sleep, or is he just here alone?"
"Maybe that's his buddy and he likes him a lot better when his asleep."