About to fly Virgin and have a smartphone with a short battery life? Rejoice!
The airliner has done a u-turn and said it will now foot the bill to ship on people's electronic devices that cannot switch on, which cannot fly with them due to tighter security rules.
Earlier today, Virgin said that passengers deciding to fly without their uncharged devices would have to pay for the cost of sending the devices to a chosen address.
But later Virgin said it had reviewed its policy and the airline had now decided that it will return devices to customers without a charge, as BA had already said it would do.
SEE ALSO:
The two carriers are advising passengers to arrive at airports with devices fully charged as laid down by the new rules.
BA said that passengers should arrive in good time at check in and also at the boarding gate, as there could be extra checks.
BA said: "We have in place a range of options if customers are not able to comply, when requested, with the new regulations.
"Customers can ask to be rebooked on to a later service. If you wish to carry on the item as part of your hand luggage, you will need to ensure that the device can be charged ahead of your rebooked flight.
"Alternatively, customers can leave the device behind and hand it to a member of our customer service team. You will be asked to complete a form and the item can be collected on your return to Heathrow or forwarded to an address of your choice."
Virgin Atlantic said: "We are encouraging all customers to charge their electronic devices before leaving for the airport. We are also advising all customers to check our website www.virgin-atlantic.com for the latest news and updates.
"We are not able to comment on, or disclose, specific security details. Virgin Atlantic fully complies with all Government aviation security requirements and we have a robust process that is under constant review and can be adapted at short notice should there be a need to do so."
UK travel organisation Abta said today that following the new requirements it was recommending passengers ensure all electronic devices are fully charged before departing from home and on their return journey.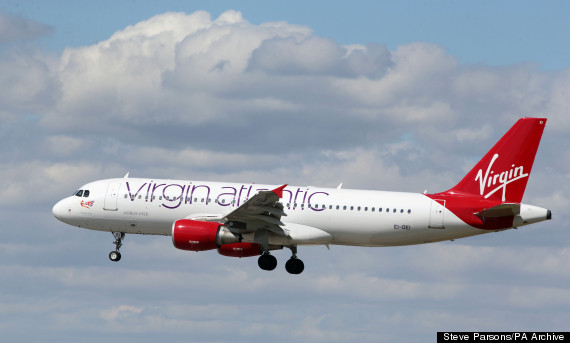 Virgin Now Says It Will Pay To Have People's Gizmos Shipped Separately
Abta went on: "The DfT has advised that these additional security measures will affect 'some routes into and out of the UK'.
"They have not specified which routes, so customers on all international flights should be prepared. If you are unable to demonstrate that your phone or other electronic device can be switched on, you risk having to leave the device at the airport, which may also result in you missing your flight.
"Many airports now have charging facilities at the airport but demand for these will be intense, particularly at this time of the year.
"Customers are also advised to switch on their electronic devices before they reach the security check areas to cut down on potential delays."