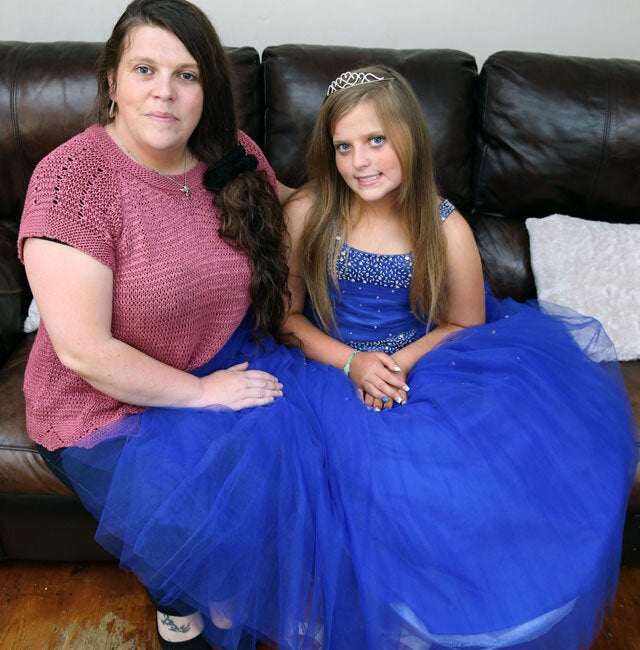 A mum spent £1,000 to send her 11-year-old daughter to a primary school prom – and even got a second job as a cleaner to pay for it.
Mother-of-three Aimee Woolley splashed out for her daughter Beth to have a fake tan, fake nails and lashes and a giant princess dress for her school party.
The 36-year-old also paid for three limousines and two visits from a beautician and stylist to make the day extra-special.
The mum and daughter, from Tipton in the West Midlands, began planning for the extravagant event in February.
Aimee treated Beth to the £200 blue netting and satin gown, along with matching shoes and a clutch bag.
When the big day came, Beth's aunt and grandparents travelled from Wales to Tipton to take photos and wave her off as she then headed to a classmate's house where 19 girls enjoyed non-alcoholic sparkling drinks from champagne flutes on a red carpet and were snapped by a professional photographer.
Other parents also chipped in for the girls who then went for a drive in three limousines in white, pink and silver before arriving at a local pub for the party.
Dinner lady Aimee said: "I took on an extra job as a cleaner to make sure I could pay for everything.
"Even though I've been up at 5am every day to go to work and we held off from decorating our house this year, it was all worth it to see the smile on Beth's face.
"I've got two boys who are 16 and 15 and I wanted a girl. I knew when I had her that she would be pampered and she loves it - she's such a girly girl."
She added: "I just wanted to give my daughter the biggest, best prom she could imagine.
"It was really like preparing for a wedding - definitely bigger than any Christmas or birthday we've celebrated.
"I just love my kids so much I'd do anything for them. We do struggle with money but I just want to give my kids everything they can.
"My husband was dead against it at the beginning but when he saw Beth come down the stairs he changed his tune.
"He welled up he was so proud and now he can't stop talking about it."