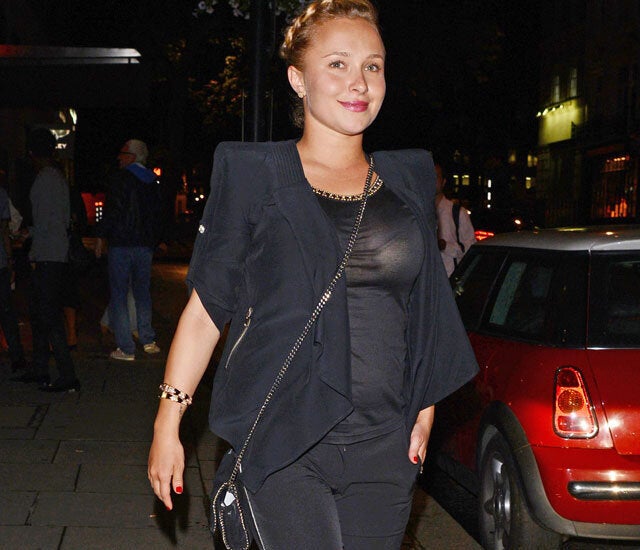 Pregnant Hayden Panettiere covered up her baby bump as she was spotted out and about with boxer boyfriend Wladimir Klitschko.
The Nashville star seemed in great spirits as she and Wladimir headed for a romantic evening dining at the popular Hakkasan restaurant in London.
Hayden wore an all-black ensemble, which featured a pair of jeans and a cardigan, and her hair in a milkmaid-style plait.
Heavyweight champ Wladimir looked every inch the protective boyfriend as he stood close to Hayden as the pair walked down the street.
It was revealed in May that the 24-year-old actress and Wladimir are expecting their first child together.
A source told Us Weekly magazine: "Hayden is totally pregnant!"
The Heroes star previously admitted she was keen to start a family and felt like she was 'born' to be a mother.
The couple's relationship has been on-and-off since they met at a book launch party in 2009.
They officially split up in 2011, but were back together by the spring of 2013 and quickly got engaged.
At the time, Hayden told Glamour magazine that she felt she was 'born to be a mother'.
She said: "Sometimes people speak about having kids like, 'Your life ends - you're never going to be able to do anything again!' And I'm like, 'What are you talking about?'
"Motherhood is the most beautiful, exciting thing, and there's nothing that I feel like I can't accomplish while having children in my life."
Hayden, who is 5ft 2in, has previously joked about what her children with 6ft 6in heavyweight champ Wladimir might look like.
She told Ellen DeGeneres in November 2013. "He's got bow legs and I've got knocked knees, so they're going to have straight legs. And they'll be normal height!