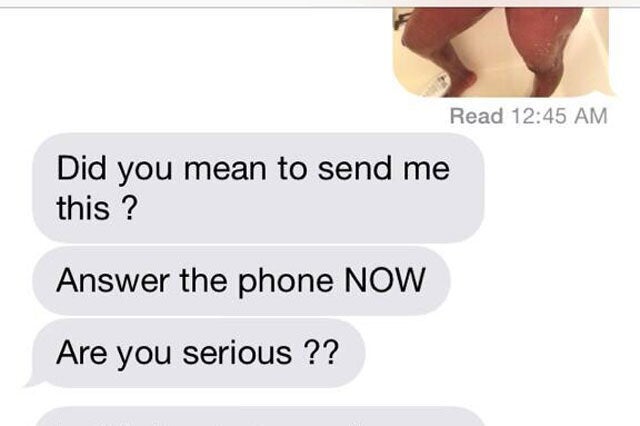 It just doesn't get more cringe-worthy than that.
A Twitter user called @dearfashionn (aka Nyjah Cousar) meant to send the intimate nudie to her boyfriend Dacquan – but pressed 'Daddy' instead!
Realising her mistake, the panicking schoolgirl then begged Twitter users for advice on how to delete the offending Tweet before it burnt itself into her father's eyeballs, writing: "OMG – HOW DO YOU CANCEL A TEXT MESSAGE!!"
Adding: "I' just sent a nude to my dad."
But her pleas were to no avail.
A few minutes later, Nyjah received a quartet of texts from her gobsmacked dad, to the effect of: "WTF?"
His first read: "Did you mean to send this to me?"
The second: "Answer the phone NOW"
The third: "Are you serious?"
And the fourth: "Is this what you do whole (sic) you're at school?"
Her dad then sent another stream of messages voicing his and Nyjah's mum's 'disappointment' before concluding: "I'll be at your house as soon as I get off so answer the door."
Nyjah ends the conversation by telling her followers: "I'm about to block my dad...seriously..."
Story continues below the video
There is speculation about the authenticity of the Tweets and suspicions they might all be a comic hoax, but that didn't prevent more than 16,000 people enjoying the fun and retweeting it – and for us all to exercise a little extra caution when sending texts and tweets!
But Nyjah Tweeted today that the exchange was all true, writing: