For a man whose batting and captaincy is beginning to resemble the last days of Michael Atherton's ignominious denouement, Alastair Cook presented a staggering lack of self-awareness on the eve of England's first Test with India.
"It's a tough selection call," said Cook of Ben Stokes' return to the Test side. "That is what you want as captain of a team. You have got a guy who has been out injured. He has come back and he's got 10 wickets (in a match) for Durham and he was the stand-out player for his four Tests in Australia.
"Then you have other people who have done well in his absence and so that's a great place to be. Whoever plays will be desperate to keep their place and that can only be healthy competition."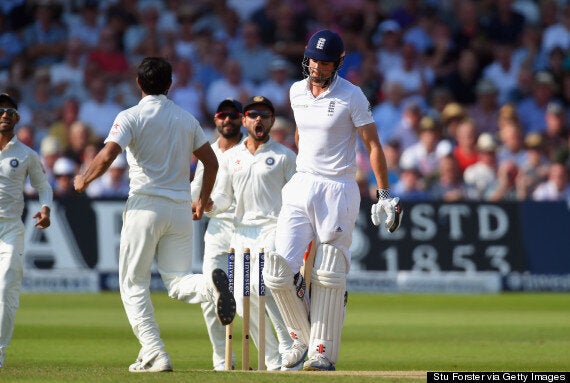 Cook leaves the crease after being bowled by Mohammed Shami
What maybe isn't a tough selection call is Cook's place in the side. England's opening batsman has not scored a century in 25 innings, is without a win in eight Tests and scored five at Trent Bridge on Thursday.
He contrived to be bowled round his legs by Mohammed Shami off the under-side of his thigh pad. His dismissal followed Indian tail-enders Bhuvneshwar Kumar (58) and Shami (51no)'s last-wicket stand of 111. Nelson has it in for Cook, too.
The timing of the latest debacle is especially bad on a day when there were no World Cup matches. Alexis Sánchez may have signed for Arsenal but Cook's forlorn stance was splashed on several back pages.
There was, allegedly, a rat in Cook's kitchen but even with divisive figures gone the fire is bellowing in hell's kitchen for England and their captain.
A third successive Test series defeat will surely signal the end of his stewardship ahead of next year's Ashes series. A seminal series win in India and the effortless defeat of Australia are such distant memories England have slipped to fifth in the Test rankings and the Australians, abject in England last year, have risen to first.
Stuart Broad, a contender to replace Cook as captain, sympathised with the circumstances of the skipper's seventh successive Test dismissal for under 30.
"The ball was probably missing leg-stump if not (just) flicking when it caught the thigh pad," he said. "You just can't do work on those sorts of dismissals. It is just one of those things - like getting caught down the leg-side.
"I'm sure Cooky would have been more disappointed in the changing room if he'd 'nicked off' to 'fifth' stump - rather than being bowled round his legs off his thigh pad.
"It really is one of those dismissals that you can't do a huge amount about, and he'll be looking forward to batting in the second innings."
England fans might not be, though.
Related