'Big Brother' housemate Danielle McMahon has constantly insisted that she's a squeaky clean Catholic virgin… So what's she doing appearing on a show called 'Webcam Girls: At Your Service'?
The 'BB' housemate appeared on the show which was aired on Channel 5 last night, where she happily told the cameras about her work as a webcam girl.
Danielle explains the services she offers
'Webcam Girls: At Your Service' features a number of women. including Danielle, who cater to clients with fetishes and kinky requests.
It's already been revealed that Danielle previously appeared in a number of raunchy lingerie shoots and her webcam work sees her play on her 'Catholic virgin' image and she insists that there's nothing sexual about the online chats - despite the fact many clients really enjoy her innocent vids.
"I like to see myself as a webcam housewife," Danielle explains. "There's nothing sexual about it.
"It's purely business. There's nothing more to it than that."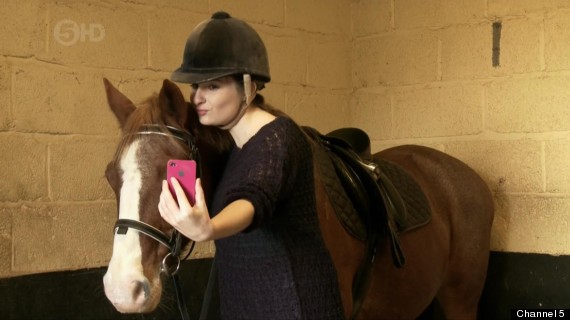 Danielle accepts a video call from a client
The voiceover explains that by remaining a virgin, Danielle is able to charge double the regular rate for her services and the Glaswegian reveals she once made £800 in one night.
On the show, Danielle is described as an Essex girl who dates footballers and she happily shows off loads of designer items, including Cartier jewelry and a Hermes Birkin handbag.
Danielle hasn't exactly had an easy time in the 'Big Brother' house and spent most of the first week rowing with Helen Wood.
On Monday night's show (14 July), Armageddon Week will begin with a shock live eviction.
Three new housemates are also set to enter the house, and if the rumours are true, Steven probably won't be too pleased about one of the new arrivals.
See all the photos from Danielle's appearance on 'Webcam Girls: At Your Service' below...
LIKE US ON FACEBOOK | FOLLOW US ON TWITTER