Billie Faiers has spoken about her gruelling 32-hour labour before she gave birth to her 8lb 7oz baby daughter last Thursday (July 10).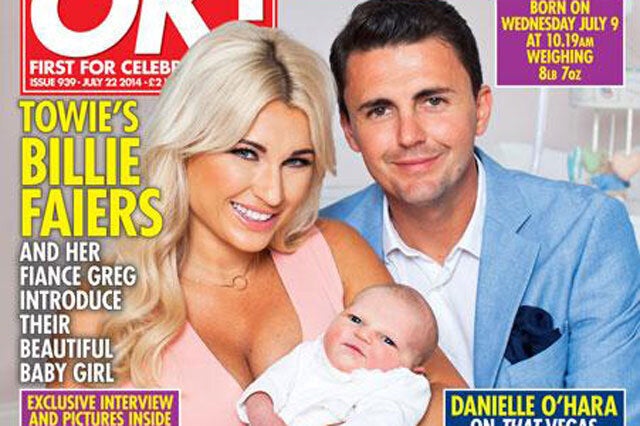 The 23-year-old and her fiancé Greg Shepherd proudly posed on the cover of the magazine after a photo shoot at their Brentwood home.
Describing the arrival of their new daughter, Billie said: "When she was born I couldn't believe that she was here, I still can't now. I've never experienced anything like that pain in my life. You can't explain it."
Billie also revealed how her sister Sam filmed much of the birth.
She said: "She was amazing and proved to be a complete natural as a midwife. She'd been a birthing partner for one of our best friends twice, so she came in the room and was like a midwife.
"She started to massage my back and knew exactly what to do!" Billie and Greg are still struggling to choose a name for their daughter.
The TOWIE star said: "We just haven't decided, it's so difficult. We've been Googling names and looking at her saying: 'Does she look like this?'
"All the women in our family have 'Elizabeth' as their middle name so I think that will be hers. Greg liked the name Skyla but I was like: 'No way!"
Billie and Greg announced the happy news of the birth via a statement, saying: "Billie Faiers has given birth to a baby girl. Mother and baby are doing well."
Her arrival was confirmed by new mum Billie on Twitter.
She told her fans: "We are so excited to announce the birth of our beautiful baby girl. We are so happy and the proudest mummy and daddy in the world."
Greg then added: "So proud to announce the birth of my beautiful baby girl @BillieFaiers was amazing love you both so much #babyshep."
The full interview and photoshoot appears in this week's OK! magazine, out now.