Cara Delevingne has posted a topless snap on Instagram to protest against their terms and conditions as part of the 'Free The Nipple' campaign.
The model shared a photo to point out that while the app forbids photos of female breasts when the nipple is showing, topless men are allowed to feature.
The racy protest photo came just days before the news that Cara is apparently under fire from her agency for having a few too many tatts.
Over the weekend, Cara shared a snap of a new white ink tattoo which reads 'Breathe Deep', which apparently angered her agency.
However Cara reportedly wasn't having any of it and hit back at her bosses.
"Cara is without doubt the world's most tattooed high profile model," a source told The Mirror. "It is not ideal for catwalk shows, especially when she's modelling delicate summer wear, and particularly feminine collections.
"But her family are totally supportive, and couldn't care less, so that's all she's really bothered about.
"She told bosses that anything can be airbrushed these days and it wouldn't affect her professional appeal."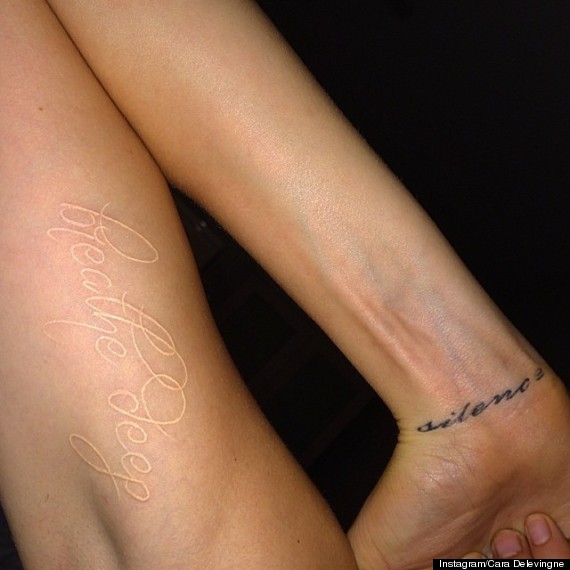 The model's latest tattoo
"Cara is her own person, and won't take orders from anyone," the source continued. "She also joked about Kate Moss being airbrushed, with no one complaining about that. The tattoos are here to stay."
Cara's many tattoos include a lion on one of her fingers and a hip tattoo which reads 'DD', as a nod to her friendship with Jourdanne Dunne, who has the same inking.
Cara's Free The Nipple protest wasn't as drastic as Scout Willis's. Bruce's daughter decided to make her opinions on Instagram's nipple ban known by parading through the streets of NYC topless and then sharing the photos online.
LIKE US ON FACEBOOK | FOLLOW US ON TWITTER