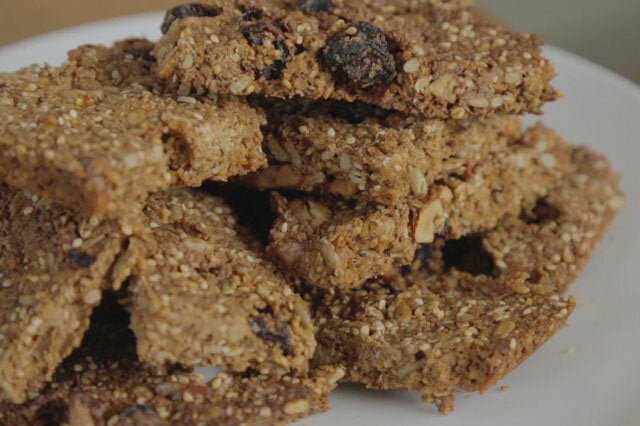 Honey nut cereal bars
by
Great British Bake Off
star
Cathryn Dresser.
These delicious bars are packed with nuts and fruit and are perfect for after school snacking.
Prep time: 15 minutes
Cook time:30 minutes
Makes:
12
100g butter, plus extra for greasing
100g light muscovado sugar
1. Preheat the oven to 160°C/325°F/Gas Mark 3.
2. Grease and line the base of an 18 x 25cm baking tin. In a separate roasting tin, mix the oats, seeds and walnuts in a separate tray, then pop them in the oven for five to 10 minutes to toast.
3. Meanwhile, warm the butter, honey and sugar in a pan, stirring until the butter has melted and the sugar has mostly dissolved. Add the toasted oats, nuts and seeds, cinnamon, raisins and dried cherries, then mix until everything is completely coated.
4. Tip into the prepared tin, press down lightly, then bake for 30 minutes. Cool in the tin before cutting into 12 bars.