Parts of Britain have been warned to brace themselves for heat that could harm your health amid predictions that temperatures could be warmer than Hawaii and The Bahamas.
Health officials issued a heatwave alert following forecasts that the mercury may reach 32C (90F) in London and East Anglia on Friday.
That is expected to be higher than the peak temperatures in Honolulu, Hawaii, and Nassau in The Bahamas, which will be 30C (86F) and 31C (88F) respectively on Friday.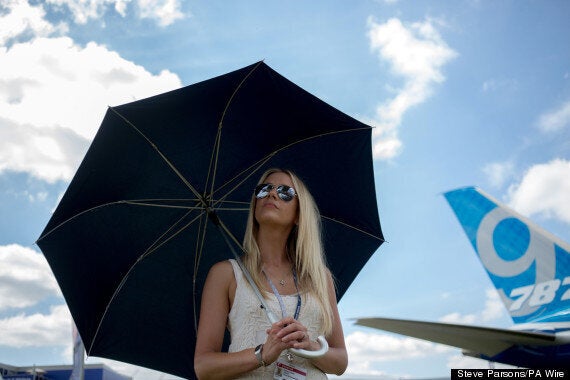 Take an umbrella, but not because it's going to rain
The hottest spots in the UK also look set to be warmer than European holiday resorts such as Crete (30C) and Ibiza (29C).
Even overnight on Friday, temperatures could be higher than 20C (68F), the Met Office said.
With temperatures set to soar, Public Health England (PHE) said that heatwave conditions can have a "significant effect on health".
Dr Paul Cosford, director for health protection at PHE, said: "While many people enjoy hot weather, high temperatures can be dangerous, especially for people who may be particularly vulnerable such as older people, young children and those with serious illnesses.
"Everyone can enjoy the sun safely by keeping out of the heat at the hottest time of the day, avoiding sunburn and staying hydrated with plenty of cool drinks.
"Older people and those with long-term illnesses are particularly vulnerable to the effects of very hot weather, so it's important to look out for them and keep indoor areas as cool as possible."
Story continues beneath slideshow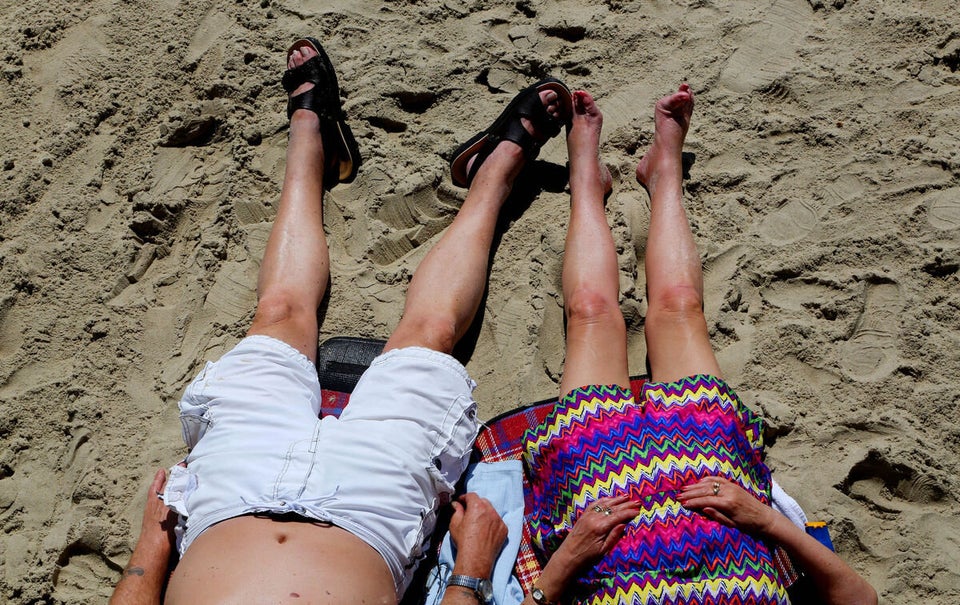 Britain Simmers July 2014
PHE urged people to consider how the heat may affect them or their loved ones after forecasters said that heatwave conditions will sweep parts of the South East, London, the East of England, the East Midlands and West Midlands later this week.
The Met Office has declared a level 2 heat-health alert, which is activated when there is at least a 60% chance of temperatures being high enough on at least two consecutive days and into the night to have a impact on health.
Steve Ramsdale, deputy chief meteorologist at the Met Office, said: "The humidity will make it feel close, muggy and uncomfortable for many in the heat and people should take steps to keep cool - particularly across the areas where we have issued a heat health alert."
PHE says people should consider staying out of the sun during the hottest part of the day, to drink plenty of fluids and wear sun cream that is at least factor 15.
It has also asked people to be aware of children and the elderly, to ensure they are not suffering because of the heat.
People should never be left in closed, parked cars, especially infants, young children or animals, a spokesman added.
The highest temperature recorded so far today was 27.4C (81F) at Heathrow and another similarly warm day is expected tomorrow.
But on Friday the heat will ratchet up another notch as a set of conditions known as a "Spanish plume" sweeps in.
Met Office forecaster Laura Young said: "It is going to be very, very hot and very, very humid in the South and the East, with temperatures of up to 32C in central London and parts of East Anglia."
North east England and parts of Scotland could be around average but most places will be "very warm" on Friday, she said.
She said Saturday would also start off "warm and humid", adding: "We could even get overnight temperatures of over 20C in the South and South East."
Temperatures are expected to be slightly cooler on Saturday, while many places could be hit by heavy, thundery downpours.
The Met Office has issued severe weather warnings for rain for much of the UK, with "significant" flooding possible.
Ms Young said the combination of hot, sticky conditions and rain will make it "unpleasant" for some.
"It's going to be warm and sticky rather than 'yay, let's go to the beach'," she said.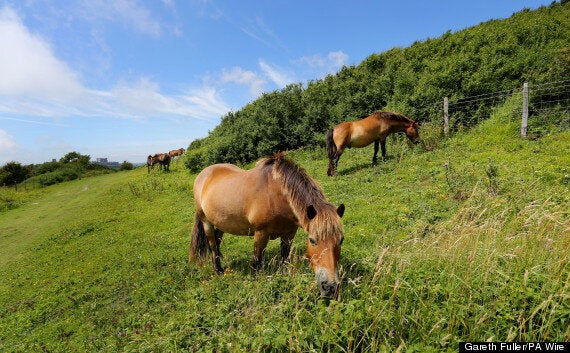 These horses, pictured grazing today in Kent, have no idea what's going to hit them
Sunday should bring fresher conditions but the south of the country is expected to remain warm into next week.
However, Ms Young said they were not expecting an extended spell of hot weather such as the period of unbroken high temperatures and sunshine seen that lasted for much of July last year.
Pet owners were advised to keep their animals well hydrated to avoid the risk of them developing heatstroke.
A survey by PetSafe found 45% of pet owners in the UK don't know how much water to give their pet.
A spokesman for the pet product firm said: "Keeping your pet hydrated and cool in the heat is essential for their health and well-being.
"Dehydration is a serious health issue for many pets and can lead to numerous problems such as urinary tract infections and kidney disease.
"If you feel your dog or cat is suffering from any of the conditions mentioned make sure you seek veterinary advice as soon as possible to ensure they receive the best care available."
Popular in the Community