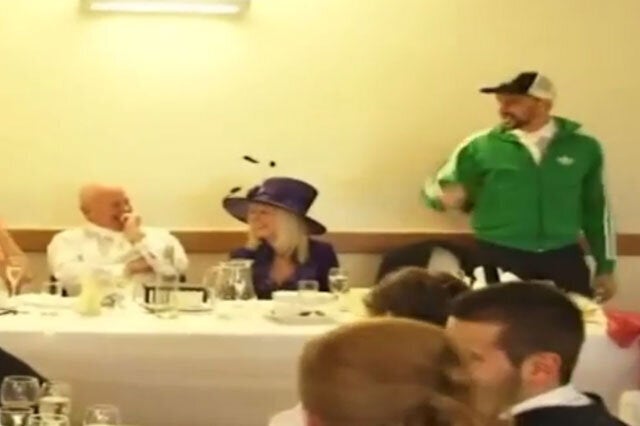 Prepare yourself for the greatest best man speech of all time.
A best man from Wales pulled out all the stops for his best mate when he got married, writing a FIVE MINUTE rap song for the bride and groom.
Spencer Loveridge, 35, from Pontypool, stole the show at the wedding of Luke Davies and Kate Davies.
Donning a green hoodie and cap, Spencer rapped his way through his speech, which included the rhymes:
"He used to have his hair, just like Sonic. At 32 years old,It looked something chronic. I marched him down the barbers much to his disgrace. And now he just looks like Ricky Gervais."
"Scrapping with a bloke that was 10 times bigger? Or did just trip over that Postman Pat slipper?"
Speaking to Wales Online about the speech, Spencer said: "Luke has been my best friend since we were about four years old.
"We've been great mates for all these years. He asked me to be his best man in December. I had an inkling he was going to because we all made agreements many years ago down the pub that we'd all be each other's best men.
"So when the time came I thought, 'okay he's quite a character so there's a lot of material', but the trouble was it was all very disparate chunks. It was little funny things that he had done but nothing that you could stretch out to a full anecdotal speech."
Spencer – who learnt the rap by singing it to himself to and from work in his car – added:
"I'm a big fan of Goldie Lookin' Chain and I thought I could do a rap in a similar style. I put the track together using Tom Jones samples which fitted perfectly.
"I then made a simplistic hip hop beat and put it all together and it started to work, but at the back of my mind I was thinking 'can I do this can I get away with this'?
"My girlfriend pushed me into doing it and said you need to do this. It got to the point where I was running out of time because I'd put so much effort into it and I was past the point of no return. It was do or die.
"Now everybody keeps asking me when I'm getting married and who my best man will be. I keep telling them it might happen but I don't want to get the girlfriend too excited!"
Whoever gets the job will clearly have big shoes to fill!