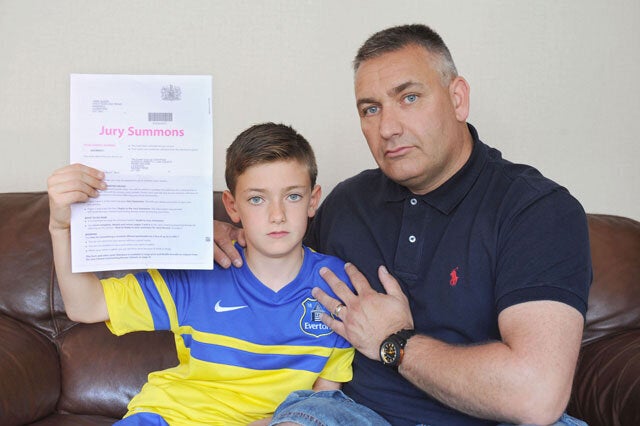 A 10-year-old boy was accidentally summoned for jury service – so he asked his teachers for time off school!
Jake Alker told staff at Blessed Sacrament Primary School, Aintree, Merseyside, that he needed to do his duty for his country after a letter arrived at home inviting him to appear at Liverpool Crown Court to serve on a jury.
His mum and dad Stephen and Paula admitted they found it 'hysterical' when the summons arrived addressed to their son.
Stephen, 45, said: "Ten-year-olds don't get that many letters so we opened it for him and my wife was astounded, she thought it was hysterical.
"It was all formal and addressed to him, with a time and date on telling him he had to appear at court for jury service.
"My wife phoned the court and told them we'd had a letter for our son to attend court.
"She said to them: 'Well, he's only 10'. The woman on the phone said to her 'you're joking'.
"She said she couldn't believe what the world was coming to. They must not have checked their records properly."
But Jake took his civil responsibility very seriously and immediately notified his teachers he wouldn't be able to attend.
Stephen said: "Jake did go into school and tell the teachers he wouldn't be coming in next week because he'd been called up for jury duty.
"They have all been laughing about it in the staff room."
A spokesman for HM Courts and Tribunals told the Liverpool Echo: "If somebody who does not qualify for jury service is summoned they should inform HM Courts & Tribunals Service; they will not be selected to serve on a jury."