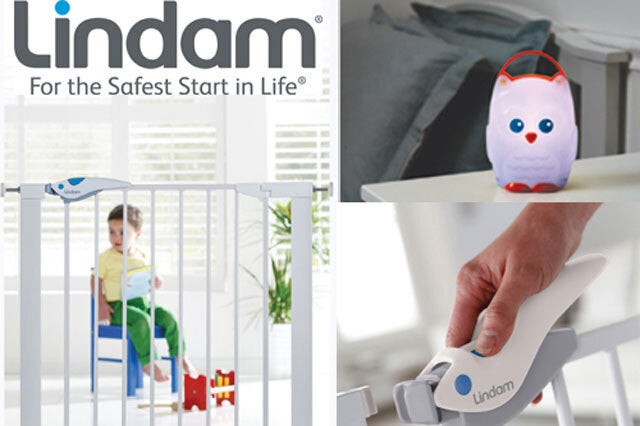 THIS COMPETITION IS NOW CLOSED
This year is Lindam's 25th anniversary – that's 25 years of award-winning products from the UK's No1 brand in safety to ensure safe homes for exploring babies and toddlers.
What better time to join Lindam and celebrate Child Safety Week 2014, 23 - 29 June?
Children should be safe at home, but we all know these little explorers get up to all kinds of mischief and the best will in the world won't keep them from harm's way.
That's why Lindam has joined forces with Parentdish to offer readers the chance to win one of three bundles of Lindam safety products worth £68!
Lindam boasts a comprehensive range of award-winning child safety gates and guards from pressure fit, wall fix and portable solutions. With a new LifeTime guarantee on all gates, parents can be reassured that a gate really is for life.
All Pressure Fit gates are easy to install with no need for drilling.
Three lucky winners will each receive:
Easy Fit Plus Deluxe Pressure Fit Safety Gate
Nursery Night Light Set and a selection of safety products from Lindam's Xtra Guard range.
The Xtra Guard range from Lindam provides a revolutionary range of safety products including Dual Guard Socket Covers, Energy Absorbing Corner Cushions, Energy Absorbing Door Stopper, Dual Locking Angle Latch, Dual Locking Multi-Purpose Latch, Drawer Latch and Appliance Latch.
This premium range takes safety one step further with tamper resistant features and double locking protection, proving hard work for the most inquisitive of meddling hands!
Lindam products are available from all major outlets in the UK – Argos, Mothercare, Boots, Wilkinsons, Asda, Morrisons, Tesco, Sainsbury's and other quality retailers, both in store and online.
For your chance to win one of three bundles, enter your details below before 10am on July 18.