A petition to free an elderly polar bear, dubbed the world's saddest animal from the sweltering heat of his current zoo has passed 400,000 signatures.
Arturo, the only polar bear in Argentina, is living in an enclosure in Mendoza, hundreds of miles west of Buenos Aires.
Specialists and activists are lobbying to transfer him to a zoo in Winnipeg, Canada to spare him from the Argentine heat.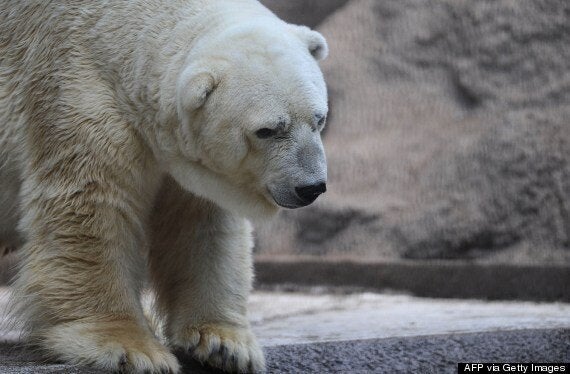 Arturo is unable to swim and cannot escape the heat of his enclosure
The petition, which is addressed to Argentine president Christina Fernandez de Kirchner, says: "We ask that you exercise your authority so the polar bear Arturo, who lives in deplorable conditions in the Mendoza Zoo, is moved to Assiniboine Park Zoo in Canada, where a natural habitat and a better life is awaiting him.
"We plead that you intervene on this issue and ask the officials in Mendoza, who have the polar bear Arturo prisoner, to accept Arturo's transfer to the reserve so he can live in suitable conditions.
"In December 2012, a polar bear died in Buenos Aires due to heat, causing unease in Argentina and in the international community."
According to the petition, Arturo cannot, meaning he cannot escape the sweltering temperatures.
Story continues beneath slideshow
Arturo, "World's Saddest" Polar Bear, At Argentina Zoo
It adds: "Say no to death and suffering! Help Mendoza be part of change, be part of the future. Help Mendoza go back to being good news to the world!"
Arturo has earned the support of former Republican presidential candidate New Gingrich, who took to Facebook to urge people to sign the petition.
"If you love animals the way I do, you're going to want to sign the petition to save the Argentinean polar bear, Arturo," Gingrich said. "This is very sad, and he should be saved."
"There are very strict regulations that must be met to bring an animal into Canada," Don Peterkin, chief operations officer at the Assiniboine Park Conservancy, told the paper.
"These regulations are in place to ensure the health and welfare of animals and animal-related industries so without the proper health records in place it's simply not possible to obtain the permits required."