Prince George is pictured walking in this official photograph released to mark his first birthday.
With his arms outstretched and his eyes fixed on where he is going, the future king is striding ahead in the picture taken during a visit with his parents Kate Middleton and Prince William to the Sensational Butterflies outdoor exhibition at London's Natural History Museum.
The youngster will celebrate his first birthday on Tuesday when the Duke and Duchess of Cambridge are expected to hold a birthday party for him at their Kensington Palace apartment with close family and friends.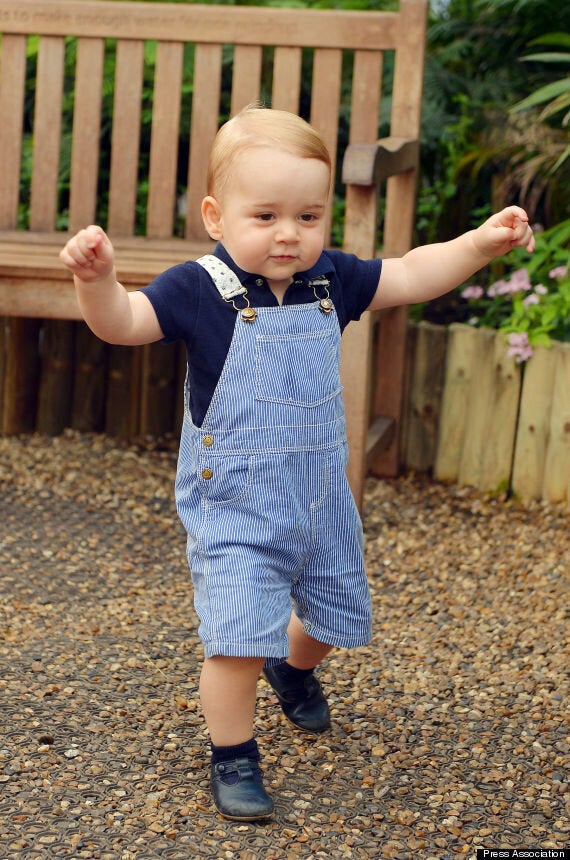 Prince George will be one on Tuesday
In the picture taken a few weeks ago, George is dressed in a pair of dungaree shorts from French label Petit Bateau, over a polo shirt-style top and shoes and socks.
Kate is wearing a green 1930s-inspired Budding Heart Silk Tea dress, by British brand Suzannah, which sells for £475.
She wore it under a green Erdem coat during her tour of New Zealand in April when she visited the town of Cambridge.
Press Association photographer John Stillwell took the picture and has photographed some of the key stages in the Prince's life, from his first public appearance the day after he was born to his christening last October.
Mr Stillwell said: "Prince George was very lively and very sure of himself and confident - a very determined young boy.
"When you have children yourself you don't realise they grow up in such a short space of time, it's always other people saying how big they've grown.
"So having seen him soon after he was born and at his christening three months later, he's now gone from a baby at his christening to a toddler, that's the biggest change.
"And who does he look like? I'd have to say his dad, William."
We take a look back at royal portraits and photos taken to mark their birthdays...