They say variety is the spice of life and that's certainly true in the case of Amazon Amanda - the 6ft 3 ins, 20 stone model who is paid to dwarf men.
The 38-year-old is a big hit with guys who like being squashed, crushed, wrestled or simply seen out in pubic with a super-sized woman.
After growing too big to be a mainstream model, Amanda discovered the world of amazon models - and put her natural assets to good use.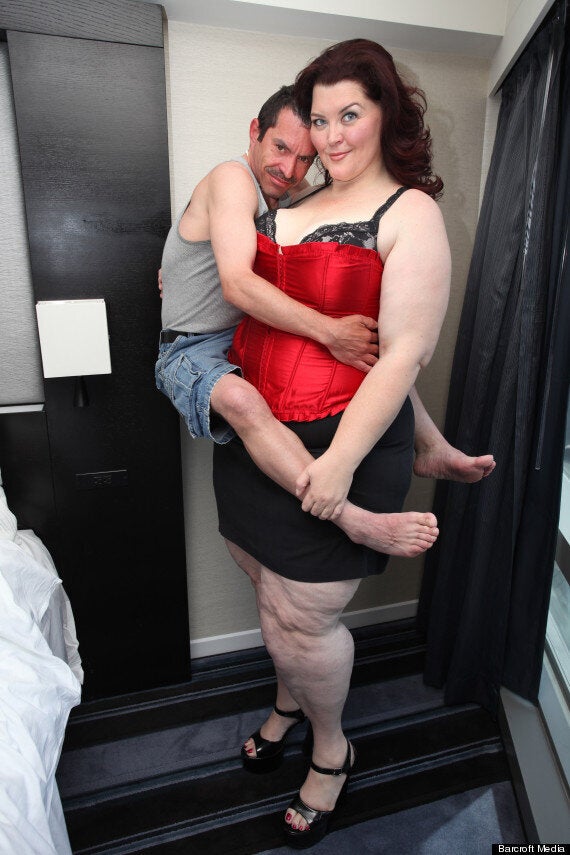 At 6ft 9 in heels with 63 inch hips and a 44DD bust she is worshipped by amazon fans all over the world. Shockingly she was once asked to crush a terminally ill client to death - so he could die doing what he loves.
Amanda said: "Being a professional amazon model you do get your fair share of strange requests.
"But being offered £30,000 to squash someone to death was the most bizarre - of course I said no."
Despite the suggestive nature of her work Amanda insists nothing sexual ever takes place between her and her clients.
She said: "Although some of my clients get aroused during the sessions, I'm never naked and there is never any sex involved.
"As far as fetish work goes I'm considered a prude."
Recently Amanda visited New York for a session with one of her smallest fans - 5ft 3 Sergio Miranda, from New Jersey, USA.
During their meeting Amanda carried, smothered and manhandled Sergio, who has paid to spend time with many amazon models over the years.
Sergio, 51, said: "Ever since I was young I've always had a fascination with big women.
"For me they're more true to being a woman than the skinny models you see. "I've seen Amanda about five times and most of the other amazon women who do this as well.
"Being seen out on the street with an amazon model feeds my ego.
"When other men look at me deep down in their hearts they want to be in my position - and I love that.
"I prefer to see my preference for big women as a lifestyle rather than a fetish." Amanda, from Idaho, USA, begin her modeling career at age 14 but quickly grew too tall and heavy for commercial work.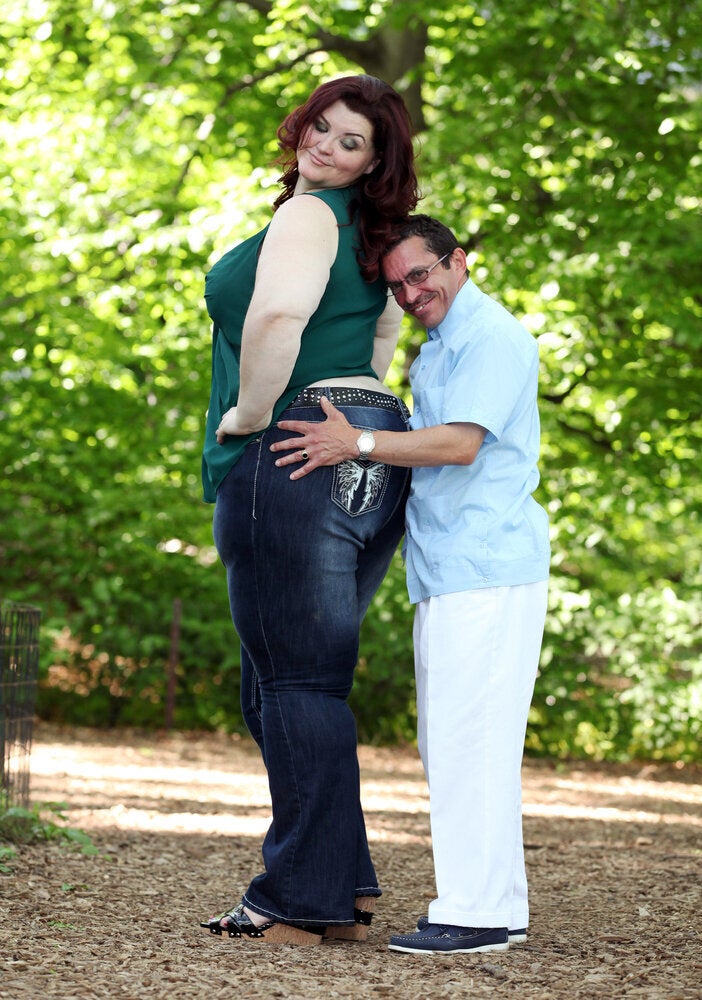 Amazon Amanda, 6ft 3 Model Paid To Dwarf Men
In 2003 she discovered a subculture of short men who love being made to feel even smaller by spending time with big women.
She said: "My friend suggested I becoming an amazon model but I had no idea what it was.
"I searched online and found a website showing a huge woman towering over little guys. I thought, ʻI could do that'.
"Later I sent an agency my pictures and measurements and they messaged me back right away saying we needed to talk.
"A few months later I was flying to Japan for a session with a client."
However, before she found her calling Amanda was teased for her size growing up.
She said: "By the age of 12 I was 6ft and weighed more than 12 stone.
"I felt awkward in my own body - I was even taller and heavier than all my male teachers.
"I was growing so quickly and I didn't know how to adjust.
"Now I embrace being tall - if I'm going out with tall friends I'll wear heels so I don't have to be the shortest.
"And I enjoy being seen out with my shot clients."
Since becoming a professional amazon 11 years ago, Amanda has travelled the world for sessions with devoted admirers.
She said: "I love what I do - I get to travel all over the world meeting interesting people.
"It's the biggest perk of the job. I've made some great friends doing what I do. However, fro single Amanda dating can be problematic as potential suitors often feel intimidated.
She said: "Dating sucks - finding guys who aren't intimidated by my height is so hard - I actually prefer shorter men, between 5ft 7 and 5ft 10.
"I one had a boyfriend who was 5ft 5. but 5ft 8 or 5ft 9 is my ideal.
"Short guys try harder, which I appreciate. They are used to being the underdog. Despite her unusual career, Amanda's family all know what she does for a living. She said: "My family fully support me - I even took my mum out to Vegas with me when I was doing a session out there."