A mysterious plane has been spotted on a flight tracking app circling South London, over and over again, for no obvious reason.
The plane - a Cessna F406 Caravan II, with the registration G-BVJT - took off from near to Farnborough on Tuesday morning and then circled south London several times at an altitude of about 10,000 feet.
The course of the plane was publicly viewable on flight tracking apps and websites.
UPDATE: It's been found again for the second day in a row.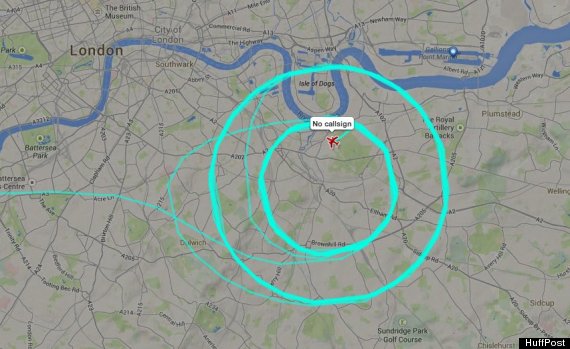 At first the plane just looks like a weird but mundane curiosity - though maybe something to justify the £1.99 price of the number one paid app in the App Store.
It circled London from about 10am to 12.30pm, whereupon it appeared to vanish (though that may have been the app's fault).
But it looks like users of plane tracking forums might have solved the mystery -- and it might not necessarily make for entirely comfortable reading.
The plane with this registration appears to have been linked in the past with spy planes operated by the Metropolitan Police. The planes, which the Telegraph reported in 2011 cost up to £3 million each per year, have been in use since at least 1997.
So what's the point of these planes? Apparently -- at least this is the widespread theory, and we can't definitely confirm it - the plane is used for surveillance, or more specifically to intercept mobile phone conversations and intercept calls.
The Telegraph report suggests they are roughly similar to planes used by MI5 for anti-terrorism operations and have been used to crack various plots over the years. That said, it's possible they are now used for other operations or have other "intel" packages on board. We really have no idea.
Update 1: There are now some more details on the plane and where it went. According to the Bristol Post the plane "has links to Bristol" and is registered with the Civil Aviation Authority to Nor Leasing. Scotland Yard has denied the plane was used for policing.
Others on Twitter joked that they had another theory:
@michaelrundle - Chemtrails, obviously. That or it's drawing a target directly above Lewisham Shopping Centre. Perfect target for terrorists

— Ben Stinson (@bunjiweb) July 22, 2014
@scaryduck @davidrook @michaelrundle @flightradar24 Obviously, he's looking for a parking spot!

— Samurai Snowboarder (@Musashi007) July 22, 2014
@scaryduck @michaelrundle @flightradar24 a lesson?!

— Amos Quito (@hubare) July 22, 2014
@scaryduck @michaelrundle @flightradar24 by the look of it, something to do with my house...

— Freddie Whittaker (@FCDWhittaker) July 22, 2014
Oddly one of the only other Google references to the plane appears to be a report of a dicey moment above the South Coast when a crew door opened suddenly in mid-air (no one was hurt). Mysteries upon mysteries.
UPDATE: There's another! This plane was circling Romford from about 2pm. It was a different class of plane, however, with a slightly less ornate flight pattern and the registration G-UMMI.