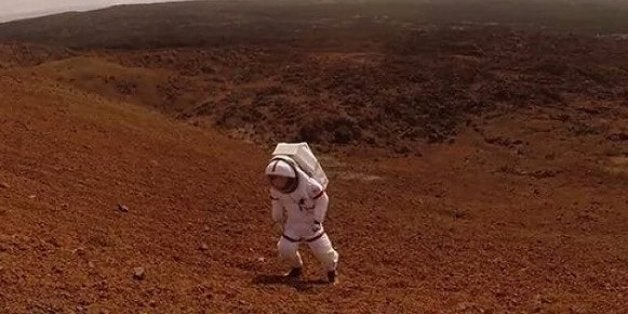 A team of scientists is about to conclude 120 days on the surface of Mars.
Spending their time inside a futuristic golf-ball-shaped dome, powered by solar cells, and communicating with Earth via a 40 minute delay, the 'HI-SEAS' team has been forced at every stage to confront the nightmare reality of life on the Red Planet.
That included wearing space suits for their EVAs (extra-vehicular activities, or Mars walks) - and, in the case of Canadian team member Ross Lockwood, playing with Lego.
The crew was picked by NASA from 700 applicants, each of whom volunteered to live in isolation 8,200 feet above sea level.
The four-month mission is just the latest attempt by the University of Hawaii to simulate long-range space travel. There are three HI-SEAS missions planned, of which this is the second.
US Air Force Major Casey Stedman, commander for the Hawaii-Space Exploration and Analog Simulation, said "I haven't seen a tree, smelled the rain, heard a bird, or felt wind on my skin in four months".
"You don't really think about the tactical feedback you get from biting into crisp lettuce and a juicy hamburger, but that's the one thing that's lacking here," said Lockwood, who served as Chief Technologist.

"We've basically been subsisting on mush. Flavorful mush, but mush nonetheless. That's actually one of my favorite parts of Instagram during the mission: all those pictures of food are helping me get through."
Here are some of our favourite picks from the mission so far:
Above: The HI-SEAS crew mission patch, featuring the names of all 6 crew members
Above: ""The future is in the hands of those who explore..." Happy birthday, Jacques #Cousteau! "
Above: "Hot damn! A letter, a set of Lego, an Achewood comic, and a picture of a cat licking it's crotch! "
Above: "Perhaps our view on Mars is directed towards Ascraeus Mons."
Above: "Mom suggested my bedroom need a little more Red and White. #HISEAS"
Above: "For #Maythe4th, the #HISEAS crew used items from inside the hab to dress up as characters from Star Wars"
Above: "Pointing toward the #HISEAS Habitat Module and Mauna Kea volcano"