After flashing his designer waistband in a number of Instagram snaps, it seems that Justin Bieber's love of low-hanging trousers could be about to make him a lot of money, as it's been claimed he's done his first photo-shoot for Calvin Klein.
The 'Baby' singer - who's not exactly camera-shy, judging from the deluge of selfies his social media pages are flooded with everyday - is reportedly following in the footsteps of Jamie Dornan, Kellan Lutz and supermodel Kate Moss by fronting a campaign for the fashion giant.
We think there will be some happy Beliebers on Twitter on the day those photos see the light of day.
Perhaps an association with a big brand like Calvin Klein could be just what The Biebs needs to turn around his public image, after being involved in a number of controversies this year, including two separate racism scandals.
As well as posing in his CK underwear on Instagram, the former teen star has been photographed out and about wearing the brand on a number of occasions, aided by the fact that he's not exactly shy about whipping his shirt off at the drop of a hat.
It was previously rumoured that Kendall Jenner, Kim Kardashian's half-sister and fellow star of reality series 'Keeping Up With The Kardashians', would be fronting a campaign for the underwear brand, after she shared a photo with her Instagram followers of her wearing a matching CK bra and pants set.
A spokesperson for the fashion giant refused to confirm whether or not either of the young stars would be cropping up in future photo spreads, telling the Mail: "We don't comment on rumors."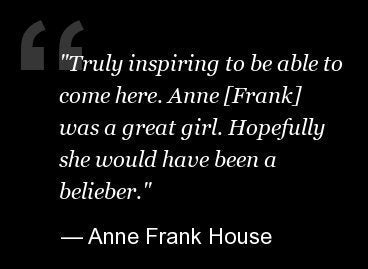 Justin Bieber's Most Self-Centered Comments
Related