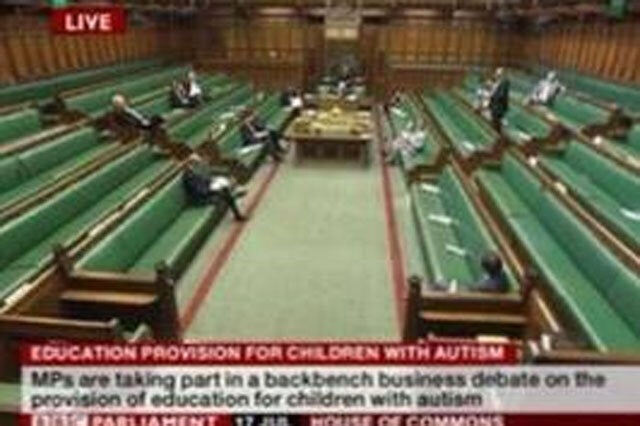 The debate was opened by the Liberal Democrat MP for Burnley, Gordon Birtwistle, who said he was 'pleased' with the turn out:
"I am pleased that there are a number of Members in the Chamber today who wish to debate this important subject," he said.
However, footage of the debate received a rather different response from parents and autism awareness campaigners on Twitter.
Anna Kennedy, who set up a school for children with autism and was awarded an OBE for her campaigning work for autistic children, tweeted:
"Parents pin their hopes on events like this," Anna told Parentdish.
"You've got to give credit to the MPs that were there to speak up for families, but such low attendance is disheartening and seems to suggest that most MPs don't care. That's the feedback I'm getting from families with autism."
During the debate Gordon Birtwistle raised the issue of the difficulties faced by parents when trying to get a diagnosis for their child, and the problems this can cause for that child's education.
"Children with statements of special educational needs are eight times more likely to be excluded than their peers, and children with no statement are 11 times more likely to be excluded," he said.
However, Anna didn't feel the debate covered any new ground.
"They were just talking about things parents already know: that getting early diagnosis is a postcode lottery, as is what services are available to a family.
"The fact so few MPs show up to these debates means that every time they just go over the same ground and that doesn't led to anything changing.
"My sons, Patrick and Angelo were diagnosed in 1994 and 1997 and I'm not hearing anything different in 2014. It's quite sad. Awareness is improving but it needs to be more than that."
The Parliamentary Under-Secretary of State for Education Edward Timpson pointed out that this was the third debate on the autism and education in the last 18 months, which he said "is a rather better return than we had over the previous 10 years."
But Anna didn't feel that this was cause for congratulation:
"I think there were about three people at the last debate and two of them looked like they were asleep!" she said.
"If I could have a meeting with the new Education Minister, Nicky Morgan, I'd tell her that she really needs to listen at a grass roots level to people with autism and their families, to hear what they're going through.
"At the moment it feels like families are not being listened to, and they're being penalised because their child has a disability."