Formula One supremo Bernie Ecclestone has labelled himself "a bit of an idiot" for paying a £60million settlement to end his bribery trial.
Just hours after walking out of the district court in Munich for the final time, Ecclestone was back at his London office "a free man".
Although Ecclestone had long declared his determination to prove his innocence after being charged with bribery of a German banker and incitement to breach of trust, in the end the trial was proving a strain on his personal life and his businesses.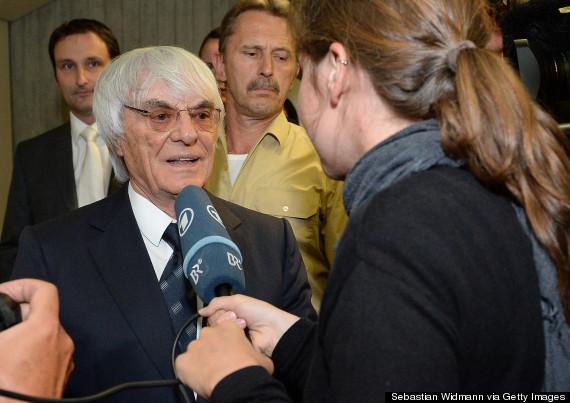 Ecclestone is grateful the bribery trial is "out of the way"
Ecclestone, whose worth is estimated at around £3-4 billion, said: "The bottom line is it's been three-and-a-half years of aggravation, travelling, meeting lawyers, and God knows what else, so it is good it is out of the way.
"This trial has been going on for two days a week and it was going to go on until October. When you're trying to run businesses it's not easy trying to resolve things when you're dealing with lawyers.
"In the end what has happened today is good and bad - the good is the judge more or less said I was acquitted, and they (the prosecution) really didn't have a case.
"So I was a bit of an idiot to do what I did to settle because it wasn't with the judge, it was with the prosecutors. Anyway, it's done and finished, so it's all right. I'm contented, it's all fine.
"This now allows me to do what I do best, which is running F1. Another three months out would have been bad. I've been working weekends to catch up with what I've been missing during the week.
"I've not really noticed, but it's probably taken its toll a little bit."
Over the past week Ecclestone's lawyers and state prosecutors have thrashed out terms whereby the 83-year-old now has seven days to pay a sum of $100m, believed to be a record in German judiciary history.
Under Bavarian state law, a trial of the nature of Ecclestone's can be concluded if the accused makes a payment to a non-profit making organisation, or the treasury.
Such an offer, however, does not imply any guilt on behalf of the accused. Gallingly for Ecclestone, if the trial had run its course through to October, in all likelihood he would have been acquitted.
In summation, after deliberating for three hours on the offer made by the defence and agreed by the prosecution, presiding judge Peter Noll declared: "The charges could not, in important areas, be substantiated."
Prior to the trial commencing back in April, Ecclestone had faced the prospect of a 10-year prison sentence if found guilty.
But to add to Noll's remarks, court spokeswoman Andrea Titz stated that based on the evidence presented "the court did not consider a conviction overwhelmingly likely from the present point of view".
In 2006, German regional bank BayernLB sold their 47.2 per cent stake in F1 to private equity firm, and the current majority shareholders, CVC Capital Partners.
Prosecutors claim Ecclestone paid Gerhard Gribkowsky, formerly the chief risk officer of BayernLB, a bribe of 44m US dollars (£26m) to steer the sale to CVC.
Ecclestone has long maintained his innocence, claiming he was "shaken down" by Gribkowsky who was threatening to inform HM Revenue & Customs he controlled an offshore family trust known as Bambino Holdings.