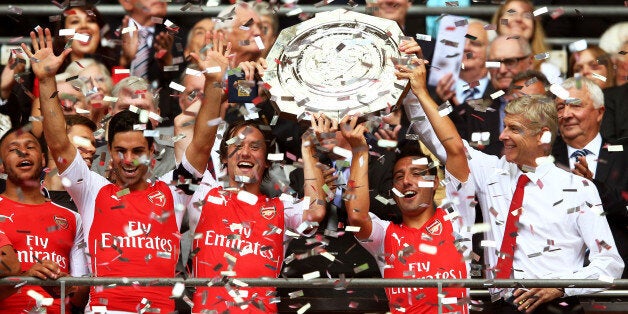 "I would love to win one every week but unfortunately it's not possible," he playfully responded when asked about Arsenal's latest success. A Community Shield fixture is an opportunity to lay down a marker and however ramshackle Manchester City looked and performed at Wembley, Arsenal gleefully embarrassed them.
"We had the complete performance in the first-half," Wenger purred. "The first-half, I felt, was very exciting. To win today gives us a positive platform to prepare."
Preparations begin against Tony Pulis' "uncomfortable" Crystal Palace next Saturday tea-time but Wenger was keen to eulogise about a rare win against City. Arsenal were pummelled 6-3 at Eastlands and experienced 5-1 and 6-0 drubbings at the other top four grounds last season, which heightened the importance of the Community Shield for Wenger.
"You want to win the game and you want to look at the quality of the performance as well," he said. "I think It was more important for our confidence to win the game but even more important to have the quality, and that is a comfort for me to see that.
"That's why it was important for us today to win the game," Wenger added when asked about Arsenal's record at the top sides. "On that form, last year we were very consistent against the teams outside the top six and less consistent against the teams in the top six. The year before it was the reverse so maybe this year it will be right on both sides."
Wenger fielded three of Arsenal's four summer signings against City and Calum Chambers, the 19-year-old arrival from Southampton, looks set to start the season at centre-back alongside Laurent Koscielny now Thomas Vermaelen has joined Barcelona and with Per Mertesacker not ready.
Although adept at right-back and, occasionally, in midfield, Wenger already views Chambers as a central defender.
"I saw him there when I bought him and I play him there," Wenger said. "For me, for a 19-year-old, he had an outstanding performance today and the kind of performance he delivered is very promising.
"It's impressive, because he has not had a long history in this position. But I think, if all goes well, he has a good career in front of him. He can challenge both centre-backs."
Wenger confirmed he allowed Vermaelen to leave before the end of last season "because he was not playing regularly" and would have bought Chambers regardless of the Belgian's future. Wenger said he was "grateful" for Vermaelen, who had "behaved outstandingly" despite losing his place in the side during the 2012-13 campaign.
Vermaelen's departure does mean Arsenal still lack another centre-half, although Wenger promised "if I can find another one I will do it" although "it would not be easy". Wenger also confirmed Mikel Arteta was now the club captain with Mertesacker appointed vice-captain.
Although Chambers garnered the majority of the debutants' praise, Wenger hailed Mathieu Debuchy as "excellent" but did admit Alexis Sánchez was not fully fit.
"Sánchez was lively, still not completely ready physically, but always dangerous and always a threat," Wenger said. "He gives us great qualities and counter-attacking, as well.
"I have more attacking options than I have had for a long time, that's for sure. Three, four, five years ago, every year we lost a big player and in the last two years we added players like [Mesut] Özil and this year Sánchez, so of course, that strengthens the squad.
"I am, of course very ambitious but I am also a bit cautious because I look around and I see the other teams have strengthened as well. So, for you, it will be interesting to watch the Premier League because it looks like all of the big teams will be very strong."