'Top Gear' presenter Jeremy Clarkson is set to sign a new £12 million deal with the BBC, according to new reports.
The controversial presenter, who has come under fire following a number of racism controversies in recent months, is reportedly about to put pen to paper on a new, three-year deal. Jeremy Clarkson
The Sunday People reports that BBC bosses are "delighted" to keep Jeremy on board, despite the fact he's been deemed to have used racist language by Ofcom.
"There was a hold on the deal being signed while the Ofcom ruling was sorted out, but there's no way it's not going to be done," a source told the paper. "The top executives want him signed up as soon as possible.
"He's very valuable for the BBC. Their priority is that the viewers get what they want and the bosses are delighted he's staying."
Just last week, Jeremy was defended by BBC Director Of TV Danny Cohen, who penned an open letter, sharing his thoughts on the presenter.
"While Jeremy and I disagree on the language some have recently found very offensive, I do not think he or anyone on the Top Gear team are racist," he wrote. "It's no secret that there have been some significant issues on 'Top Gear' in recent months.
"The BBC has taken them seriously and has left no one associated with the programme under any illusion just how seriously.
"I instigated a health check on 'Top Gear' to ensure that there were no further issues.
"The focus now is on the future and continuing the great success of Top Gear with audiences. I'm confident the hard-working, high-quality production team will deliver this."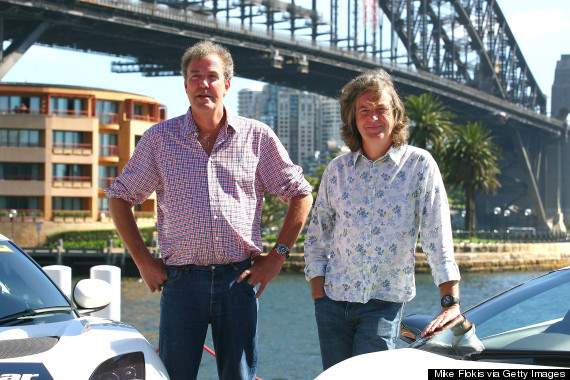 Jeremy Clarkson and James May on 'Top Gear'
In late July, Ofcom ruled that Jeremy had used "an offensive racial term" on the show.
The scene concerned saw the presenters involved in the construction of a makeshift bridge over the River Kwai. Viewers saw an Asian man walking on the bamboo crossing, while Clarkson declared: "That is a proud moment - but there is a slope on it."
In its judgment, Ofcom said "there was clearly an opportunity both during filming and post-production to research the word and reach a more considered view on whether it was 'mere slang' and had the potential to cause offence to viewers".
The regulator decided there was "insufficient context to justify the broadcast of this material" and that the BBC did not apply generally accepted standards to protect viewers from offensive material.
LIKE US ON FACEBOOK | FOLLOW US ON TWITTER