Iraq plunged further into political as well as military crisis on Monday as the country's president appointed the little-known deputy speaker of the Iraqi parliament as the new head of government, in defiance of current Prime Minister Noori Al-Maliki.
Dr Haider Al-Abadi, previously a spokesman for Al-Maliki, has been appointed prime minister by newly-elected President Fouad Massoum, who is Kurdish, replacing the defiant Al-Maliki with a member of his own Dawah party.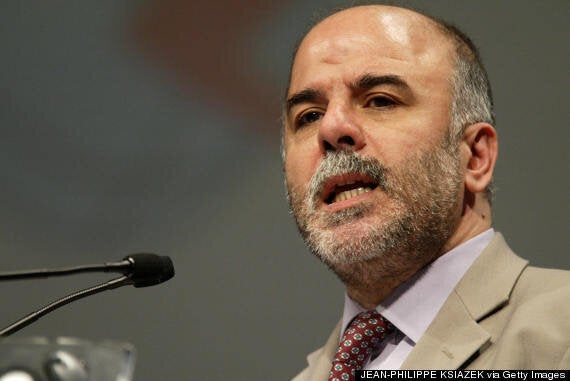 Iraqi Minister of Communication Haider al-Abadi has been appointed the new prime minister
In a televised speech on Sunday, al-Maliki said the president has carried out "a coup against the constitution and the political process."
Manchester University-educated Al-Abadi, who is chair of the parliament's finance committee and was considered a prime ministerial candidate in both 2006 and 2010, is well-known in Iraq but little recognised outside his country.
Speaking exclusively to The Huffington Post UK in June, Al-Abadi admitted some culpability for the rise of Isis, saying there had been "excesses" by Iraqi security forces, which have helped alienate Sunni Iraqis in the north of the country from the central government in Baghdad.
"We have to listen to the grievances," he said, "some of which are right and some of which are false."
But he added: "Whatever we do, even if we bring in a Sunni prime minister, they'll be against him.. They fought against [former Iraqi Prime Minister Ayad] Allawi because he was secular, even though he wasn't Shia."
"We have to be careful not to become involved in a sectarian war," he said, adding: "Shias are not against Sunnis and Sunnis are not against Shias."
Foreign Secretary Philip Hammond welcomed the replacement of Al-Maliki by Al-Abadi and praised the President for "carrying out his constitutional duties."
"It is now vital that a new and fully inclusive government be formed quickly in order to respond to the crisis in Iraq," he continued. I therefore call on Iraq's political leaders to work with the Prime Minister Designate to swiftly form a new Council of Ministers that is representative of all the peoples of Iraq and that can promote national unity and deliver security."
Hammond, who chaired a meeting of the Government's emergency Cobra committee this afternoon, said: "We are providing humanitarian assistance. This is not simple - getting it in is very challenging, getting people off that mountain is even more challenging - and the meeting we had this morning in Cobra looked at all the options available to us to step up our humanitarian support, including obtaining better situational awareness of what's going on the mountain, both to facilitate the air drops and to start planning how we are going to get people out."
But he rejected calls for Parliament to be recalled to discuss the crisis, adding: "We don't envisage a combat role at the present time."