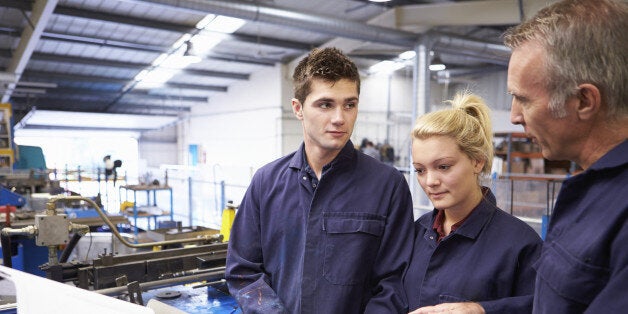 With exam results fast-approaching, it can be difficult to see beyond the university hype. However, contrary to popular belief, there is life beyond university. Arguably, a life free from debt and hazy job prospects.
Apprenticeships are an alternative to university rarely advertised by schools and colleges. However, with rising tuition fees and high levels of youth unemployment, they are becoming increasingly popular.
According to a survey published on Tuesday, almost half of young people currently awaiting exam results have considered an apprenticeship as a viable alternative to university, with almost two-thirds having discussed it with their teachers.
The survey also puts into question the common opinion that a university degree is necessary for finding work, with only 12% of the university-destined youths believing they would struggle to get a job if they didn't go to university.
As tuition fees soar, so do the number of students opting for an alternative route. Rather than paying thousands of pounds for a degree, apprenticeships provide the opportunity to earn money while you learn. They also offer reliable job prospects, a precious commodity in our current economic climate.
British Gas, who commissioned the survey, is currently training 1,200 apprentices and investing £14m in its apprentice training academies.
One young person currently benefitting from British Gas' apprenticeship scheme is 20-year-old Vicky Johnson from South London. A university-destined student, she decided A-levels weren't for her, and is now training for a QCF Level 3 Diploma in Gas Utilisation.
Vicky explains: "I applied because I loved working with my hands and, so far, it's been the best experience. From learning in the classroom to applying that knowledge in the workshops, I feel like I'm always learning something new."
Inspired by her experience, Vicky hopes to teach the trade herself in the future.
"I'd encourage anyone getting their results to see apprenticeships as good a route as any for a job or career path", she adds. "I know that I'm working for a reputable company, earning whilst I'm learning and have a good career ahead of me."
Susan Hooper, Managing Director at British Gas Residential Services, has noticed a visible rise in interest in the company's apprenticeships.
"Just last year we recruited 900 young people, and received more than 50 applications for every place, with a huge number of people applying", she explains. "You could call this the age of the apprenticeship."
She also stresses the high job prospects of those that train as apprentices. "Many of our apprentices have long careers with the company, often moving into management positions."
Apprenticeship are just one of many options available for those not undertaking a university degree. Like university, they too are not for everyone. However, they are a noteworthy alternative, not to be overlooked.
Popular in the Community