 The new prime minister-designate of Iraq plans to "rebuild and re-train" the Iraqi army as a first step towards defeating Islamist militants in the north of the country, the Huffington Post UK has learned.
Speaking from Baghdad, a source close to Dr Haider al-Abadi told HuffPost UK that the new PM-designate wanted to "rebuild and re-train our inclusive armed forces" to "fight ISIS and other terrorist organisations and kick them out of Iraqi cities".
The source, who is involved in the negotiations over a new government in Baghdad, said Abadi has pledged to both allies and opponents inside Iraq that he will lead a "strong and inclusive government", "empower local authorities" and "fight corruption by strengthening the rule of law".
It is a message that US officials, in particular, have been waiting to hear from Iraq's beleaguered and divided political leadership since a quarter of the country's territory was seized by fighters from Islamic State (IS), formerly known as ISIS, in June.
Under the leadership of the incumbent prime minister, Noori al-Maliki, Iraqi security forces have been accused not only of widespread human rights abuses but also of a viciously sectarian, anti-Sunni agenda. Amnesty International, for example, has documented "excessive force in response to anti-government protests in Baghdad and other cities … using live ammunition, sound bombs and other weapons to disperse peaceful protests".
Maliki, who has been in office since 2006, has defied calls from members of his own Dawa Party to stand down but is increasingly isolated. The United States has welcomed Iraqi president Fouad Massoum's decision on Monday to nominate Abadi as the new prime minister - as have the governments of (Sunni) Saudi Arabia and (Shia) Iran. The latter's decision will have come as a blow to the incumbent PM; Iran's supreme leader, Ayatollah Ali Khamenei, has been a strong backer of the Maliki government and is deemed to be one of the most influential players on the Iraqi political scene.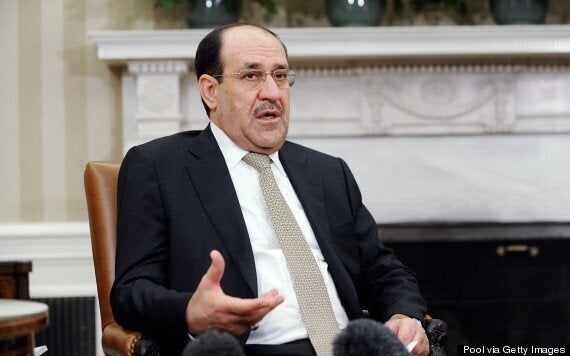 Prime Minister Maliki refuses to go quietly and hand over the reins to PM designate Abadi
"I hope the designation of the new prime minister in Iraq will untie the knot and lead to the establishment of a new government and teach a good lesson to those who aim for sedition in Iraq," Khamenei is reported to have told a meeting of his advisers in Tehran on Tuesday, according to a statement published on his website.
Abadi, an electrical engineer by training who lived in exile in the UK during the Saddam Hussein era, is considered to be a more conciliatory and technocratic figure than Maliki, and much more likely to reach out across Iraq's sectarian and ethnic divides.
In an exclusive interview with HuffPost UK in June, Abadi, then the chair of the Iraqi parliament's finance committee, conceded that there had been "excesses" by Iraqi security forces against aggrieved Sunni Iraqis in the north of the country. "We have to listen to the grievances," he said at the time, "some of which are right and some of which are false."
Abadi, as prime minister-designate, now has 30 days to form a government in Baghdad.