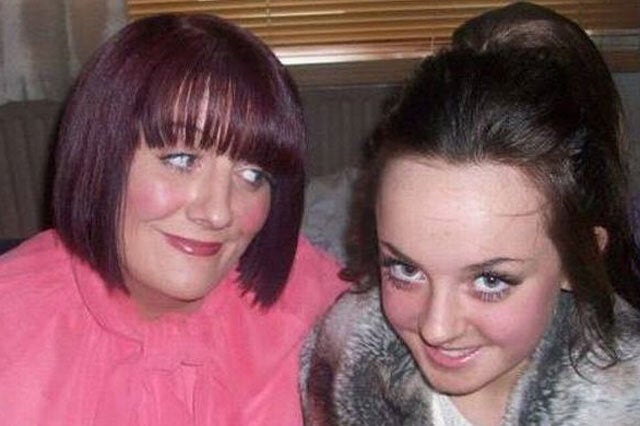 A mum has revealed her 14-year-old daughter's last words before she died from an allergic reaction to a sauce containing nuts - a death that could have been prevented. Emma Sloan, 14, told her mum and young sisters, "I'm not going to make it" as she died in her mother's arms.
Those heartbreaking words were revealed by the girl's mum Caroline as she launched Emma's Voice campaign to make life-saving EpiPens freely available.
Emma suffered a reaction after she ate a nut-based sauce at a Chinese buffet. She went to a chemist for help but was refused a life-saving adrenaline injection because it can only be given with a doctor's prescription.
Caroline said: "The last words she said were, 'I'm not going to make it'. She knew, God love her, that she was dying."
Caroline said Emma died in her arms and was aware she would not live before emergency services arrived.
She added: "I knew she was gone before the fire brigade got to her. I knew by her eyes. Her sisters watched her die on the street corner and there was nothing any of us could do."
Emma's allergy was discovered when she was younger and twice had to be taken to hospital after her lips swelled up from a peanut allergy.
But she did not realise the condition could be fatal and is appealing for more education for parents of youngsters who have the condition.
Caroline added: "If we had known she needed this pen, of course we would have carried it. Our plea is for these pens to be made available everywhere there's children and food.
"We're also looking for some form of identification for people that have these allergies. That they can go into chemists and show ID [so] they can give them the pen if they need it."
Caroline is awaiting the outcome of two investigations into Emma's death and gave a statement in January to a probe by the Pharmaceutical Society Of Ireland.
She is also due to attend an inquest into the death and wants a wide-ranging inquiry into all aspects of the case.
Caroline said: "This can never happen again to another family, it just can't. It would go some way towards knowing that it won't happen to anyone else."