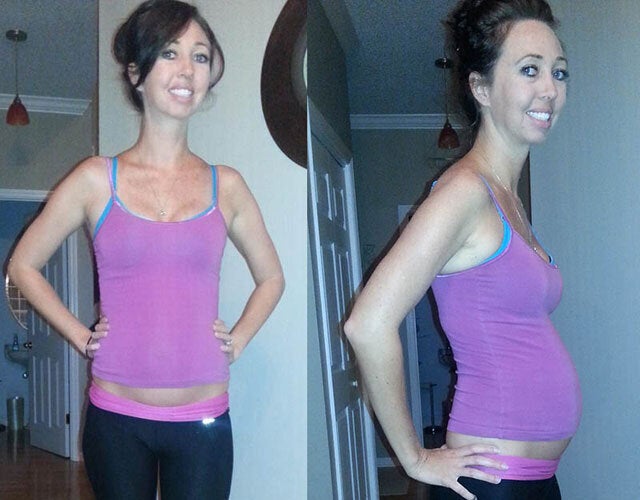 An 18 weeks' pregnant woman was ordered to leave a gym during her workout because her 'belly was hanging out'.
Melissa Mantor, 31, was told her outfit - a tank top and leggings - violated dress code at the Planet Fitness gym in Charleston, South Carolina, U.S.
The furious full-time mum to a three-year-old daughter, described the humiliation.
She said: "I went to the gym for my usual workout but it was the first day that I was visibly pregnant.
"I was on the treadmill, when a female employee came up to me and said 'I'm going to have to ask you to leave, you are in violation of the dress code'.
"She then said: 'I'm going to have to send you home to get changed because your belly's hanging out and I need to get it covered up'.
"I told her: 'Of course my belly is hanging out, I am pregnant'."
The employee then handed her a large, black T-shirt to cover up her baby bump.
Melissa added: "I even had people (working out next to her) comment about the situation, which was extremely embarrassing.
"Being a pregnant woman getting kicked out of the gym for being dressed inappropriately...I am a mother and a modest person. I do not want to be told I am dressed inappropriately."
Melissa said she has regularly worn tank tops in the three years she has been a gym member and it has never been a problem.
She said the top rides up from time to time over her baby bump but that prior to this incident no one had a problem with it.
Melisaa has now canceled her gym membership. She said that a representative from Planet Fitness called to offer a free month's membership but she refused.
She said: "I can't go to a gym where they would make someone feel bad about themselves when they are trying to stay in shape.
"It's hard enough to get motivated as it is without being made to feel like my body is offensive and that I'm dressed inappropriately."
McCall Gosselin, Director of Public Relations for Planet Fitness, said in a statement: "The majority of Planet Fitness clubs are owned and operated by individual franchisees. Our corporate dress code policy, which is enforced at the discretion of club staff, states that jeans, boots, men's string tank tops, or revealing clothing are prohibited.
"This particular location also had a stated policy that prohibited bare midriffs. In this instance, a staff member approached the member to inform her of the policy and offer her a free T-shirt to complete her workout.
"She was not asked to leave the gym as a result of her attire. The franchise owner has reached out to the member directly to address the situation.
"At Planet Fitness, we are committed to providing a comfortable and welcoming environment for everyone, and we are working with the franchise owner to clarify the dress code policy moving forward."