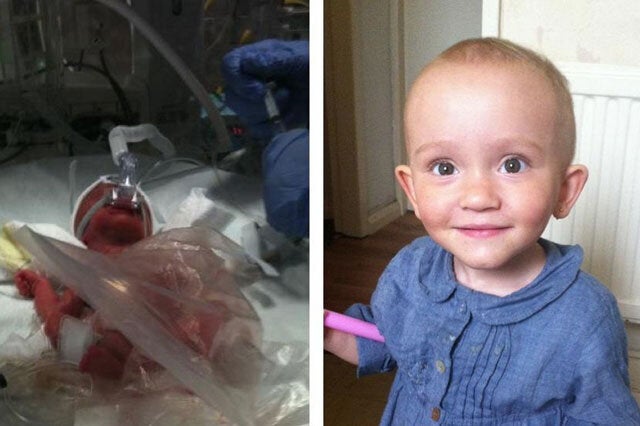 When little Rosie Lansbury was born three months early weighing just 1lb 4oz, her mum was told she probably wouldn't survive.
Doctors rated her chances at just 50 per cent because a problem with the placenta had halted her development in the womb.
But two years on, Rosie is thriving - and her mum can now look back on her daughter's traumatic and emotional journey into the world.
Mum Tasha, 28, from Potters Bar, Hertfordshire, said she had no reason to suspect anything was wrong until Rosie stopped moving at 28 weeks.
In an interview with the Mail, she said: "I woke up in the morning and I couldn't feel her moving. It gives me goose bumps to think about it even now. I thought it would be best to go for a scan to make sure everything was ok.
"They gave me an injection and waited an hour, but Rosie's heart-rate started to drop. They said they would have to get her out.
"Rosie didn't cry when she was lifted out of me, and she was rushed off to incubation. I was on sedatives, but I remember thinking 'where are they taking my baby?' It was an awful feeling."
Rosie was born on 12 September 2011 but Tasha didn't get to see her until two and a half hours after the delivery.
She recalled: "She looked just like a little raisin - her eyes were shut and her ears hadn't formed properly. Her skin was almost see-through. She didn't look like a baby at all.
"I loved her the instant I saw her. But at the same time, she looked so vulnerable that I had to prepare myself for her fading away."
She finally held her baby two days later.
Tasha said: "I cried my eyes out. I became fiercely protective over her.
"From that day I said to the nurses that I wanted to be involved more - I wanted to feed her, change her and look after her."
From there on, Rosie – who her mum describes as 'a little fighter' – began to grow stronger, and was even able to fight of a serious chest infection at two months.
And then, a month later, Tasha was able to take her home to meet her big brother Alfie, now nine.
Today, Rosie is attending pre-school just across the playground from where Alfie is attending primary school, and is meeting all developmental targets.
Tasha said: "Rosie was discharged from monitoring in December and they no longer need to keep a special eye on her.
"She's catching up height-wise but she's still very skinny. The doctors say she won't be fully caught up until she's around five years old. Despite her age she's still wearing clothes designed for 18-month-old children.
"But everyone's extremely happy with the way she's developed. Her motor skills are more advanced than most children her age. She's running around and loves having conversations with other children at pre-school.
"At home she's become my little side-kick. The only person more protective over her than me is Alfie.
"When I reflect on how close we came to losing her, I'm very grateful to everyone who helped us - the staff at Barnet General, and the volunteers with Bliss, who help families with premature children.
"It was great to have such support when I needed it most."