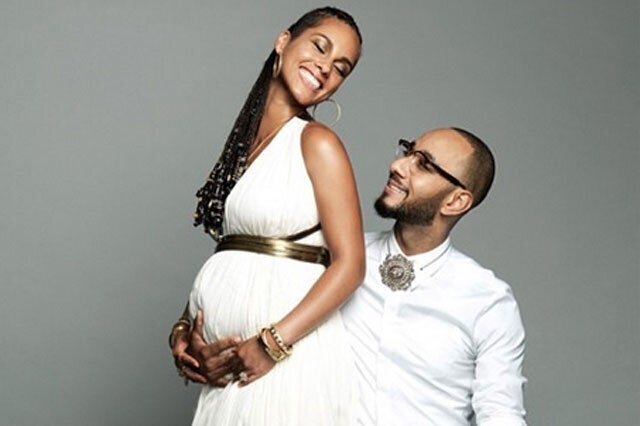 Alicia Keys had a delightful secret to share with her fans today (July 31). She's pregnant again!
The Grammy award-winning star made the announcement on the anniversary of her marriage to rapper and music producer Swizz Beatz. The couple already have a three-year-old son named Egypt Daoud.
Her 2.5 million Instagram fans and 19 million Twitter followers learned the exciting news via a lovely snap shared by the singer, showing her grinning as she displays a visible baby bump while a proud Swizz wraps an arm around her waist.
The soulful R'n'B goddess accompanied the picture with a touching tribute to Swizz (real name Kasseem Dean), her husband of four years.
'Happy anniversary to the love of my life @therealswizz !! And to make it even sweeter we've been blessed with another angel on the way!! You make me happier than I have ever known! Here's to many many more years of the best parts of life!'
Alicia became romantically involved with Swizz after they wrote and produced Whitney Houston's 2009 single Million Dollar Bill together.
In 2010, they confirmed their engagement, before marrying on the island of Corsica in July that year. Their first child, Egypt Daoud Dean was born a few months later.

Now three and a half, Egypt is a total cutie who has already made his catwalk debut, modelling Ralph Lauren's Fall 2014 Children's collection back in May. Soon, however, he'll have to share the spotlight with a baby brother or sister!
The new arrival will be Alicia's second child, but a fifth for Swizz, who already has two sons and a daughter from previous relationships, including his four-year marriage to R'n'B singer Mashonda.