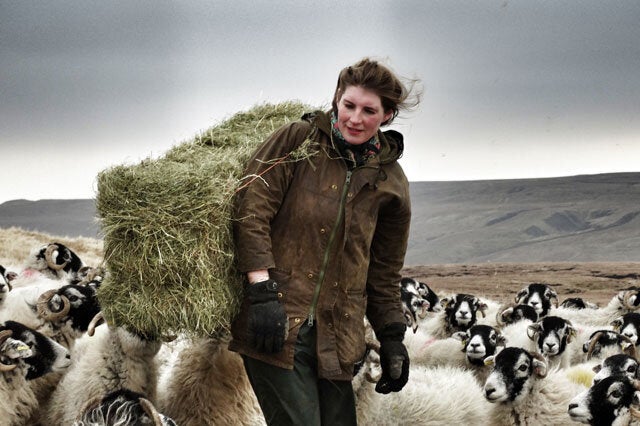 Amanda Owen was a city girl from Huddersfield who gave up the comforts of urban life as a teenager to pursue her dream of becoming a shepherdess in the Yorkshire Dales. Now aged 39, she has 1,000 sheep - and seven children!
Amanda has gained a large online following from her Twitter account, where she shares pictures of life on her spectacular Yorkshire farm. Now she has written a book about her experiences entitled 'The Yorkshire Shepherdess'. She spoke exclusively to Parentdish about her transformation from urban teenager to shepherdess and mother of seven in one of the most rural parts of the country.
The really surprising thing about your life is that there was no history of farming in your family.
All through history, there's not even an inkling of living in the countryside. I'm from Huddersfield, so I'm a first generation farmer. My husband is, too – he's from Doncaster
So you're not a 'farmer's wife'?
That term can be annoying – it gives the wrong idea. People might end up thinking that I set out like a WAG!
So how on earth did a city girl end up wanting to be a shepherd?
You go through your teenage years thinking and wondering what you might like to do. I'd read the James Herriot books and kind of fell in love with the idea of animals and the countryside.
i
​At first I wanted to be a vet, but academically I was never going to reach those higher echelons. So I went to my career teacher and said "I think I'd like to be a shepherdess" .
i
And what was the reaction?
My career teacher was like "What?". He said "Do you mean you want to do farm work?". I got a few farm jobs on the outskirts of Huddersfield - milking cows, lambing. There are some jobs you have to learn on the job – as much as I read about it, you can't do it without doing it, if you see what I mean.
So how did you get your start?
One day I was working in a cookery shop and I was reading Farmer's Weekly looking for vacancies. Usually for shepherding jobs, you need your own sheepdog - so when I saw an ad saying 'Shepherd wanted, no dog needed' I thought "This is my job!"
So I got in my little car and drove down to Wiltshire. But I didn't like it very much – it was too flat! I didn't settle. The farm where I was had hogs (young sheep) sent down from the Lake District - basically babysitting them for the winter. And the farmers who came with them said "You're in the wrong place, love. Why don't you back come up with us?". So I followed them and started my life as a hill shepherd.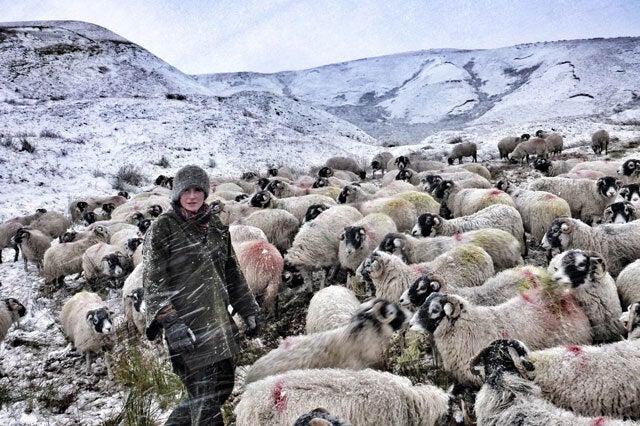 I loved the freedom, but it was hard sometimes – I lived in a crappy caravan and I had to have dreadlocks because there was no way to wash my hair! But word got around about me, and it took off from there.
And now you not only have 1000 sheep, but seven children! Did you always plan to have a big family?
Our's is a big farm - two thousand acres. Over the centuries it was such a busy place, so much going on here ... it needed some life bringing back into it. I would never have had a big family if I hadn't been living in the right situation, the right place.
How isolated are you at Ravenseat (Amanda's hill farm in the Dales)?
We're not totally isolated from the outside world. For six months of the year, the whole world comes to us because we're on the Coast to Coast footpath. Americans, Canadians... And we had a satellite dish put on, so we have the internet - I tweet a lot.
And what's it like for the children growing up on the farm?
It's such a great place to bring up children. They can run free... a bit wild, perhaps? It just felt right. People say, 'You must be really rich to have seven children,' and I say, 'It's not the children that cost money, it's the lifestyle.' It depends what you want out of life.
i
It's an old-fashioned childhood, really. The big ones help out with the little ones – but not as slave drivers. I'm not breeding my own workforce!
i
They've learnt respect and common sense, and how to work together. But people who have met them will tell you, they're not weird – it's not a commune or anything!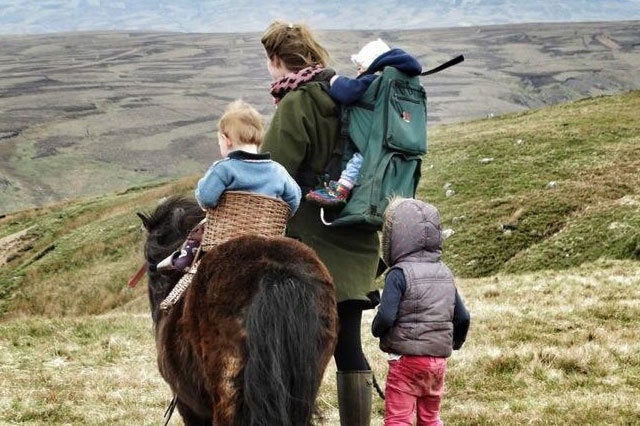 Do they help out with the work?
Oh, yeah! They all have different responsibilities and they all help out. It's what they're used to.
Like, in the morning, before they go to school, Reuben (10) will go and get the sticks, and Miles and Violet will make paper dogs [firelighters] because they know if the fire doesn't get lit, it means a cold shower for everyone. It's joined-up thinking, isn't it?
And how do they get to school?
Raven the oldest, has just gone 13. She leaves here at 10 past seven to get to school at nine. It's 30 miles away. You might think that's not so far, but it takes a long time to get anywhere on these roads.
Edith (five) goes to one 10 miles away, but there's nobody in her year. There are other children at the school, but in her year there isn't anybody else. Miles (eight) was on his own as well. He now spends half of his time at Reeth, which has a bigger school. A taxi comes for them and meets up with a bus further down the dale. It's logistical nightmare, basically!
i
​Raven had the chance to go to boarding school, but she said she'd miss her horse too much - not that she'd miss the family!
i
Is there anything you miss about urban life?
If you get a takeaway, it's always rather cold by the time you get it! The world has got smaller now we have the internet. It's not a case of 'I wish I had some new clothes' - you want something, you can go online for it. I can make Tesco deliver food shopping to here. I must be the most unprofitable customer there ever was!
But I really don't [miss it]. I can get up, and if my clothes are on the washing line, I can go out with absolutely nothing on to get them down without worrying that anyone will see me.
People say ,'Don't you get lonely?'. Well, there's always plenty going on here, always something to do. People drop by – you're only as far away from people as you want to be.
How did you get approached to write a book?
I had so many visitors through the summer saying, 'What a beautiful place. It must have been in the family for generations'. And I'd tell them no, I'm a townie and my husband is, too, and I'd talk about the children and how I managed to have five of them before I got to the hospital – two by the side of the road!
And a lot of people would say, 'This reminds me of my childhood'. There's the sense of nostalgia, harking back to when kids had more freedom to get absolutely bloody filthy.
And it was those people who prompted me to have a go. I was on a docusoap called The Dales that ran for three series, and the producer got in touch with me last Christmas and said he had some friends who were literary agents and could they come up to see me... And it all stems from there.
The Yorkshire Shepherdess by Amanda Owen is out now (Sidgwick £16.99) available from bookshops and on Amazon.