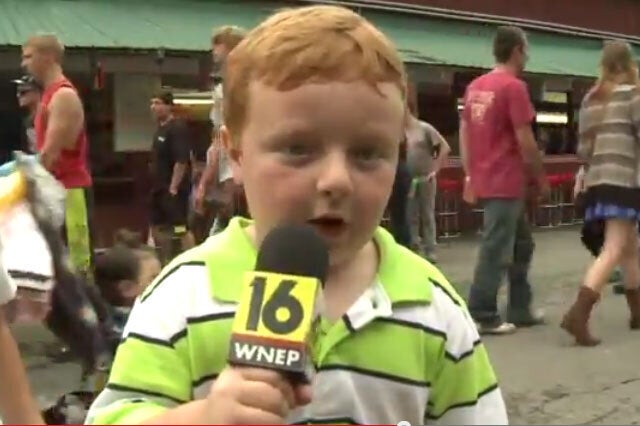 A little boy being interviewed for local TV at a county fair brought the house down by taking the reporter's lighthearted questions very seriously indeed.
With the Wayne County Fair underway in north-eastern Pennsylvania, reporter Sofia Ojeda headed out to the fair to get a few comments from attendees for a segment on local news channel WNEP.
When she stopped a cute little boy to ask him if he enjoyed the rides, she was probably expecting a shy nod and a hesitant couple of words.
What she got was Noah Ritter, an extremely serious young newscaster-in-training. In response to her casual question, the solemn little boy took the microphone and set about giving the audience at home the considered response they deserved.
Staring straight into the camera, Noah warned viewers not to expect slick perfection in his broadcasting, saying: "I've never been on live television before."
"I don't watch the news, because I'm a kid," he explains. "And Grandpa just gives me the remote after we watch the Powerball [lottery]."
But Noah didn't need to apologise for his lack of experience when it came to current affairs - he took to live TV like a duck to water.
When asked about the ride he had just been on, he even remembered that when you're covering the news, it's best to cover your back with a few 'allegedlys'.
"Well, it was great, because apparently it was spinning around and apparently every time you get dizzy."
He doesn't shy away from adding some colour to his reporting either, telling a laughing Ojeda with relish: "I went down the super slide, when I went down the water I was scared half to death!"
Ojeda keeps it together long enough to get the young hotshot's name - now he's got the TV bug, we wouldn't be surprised if we hear it again one day!