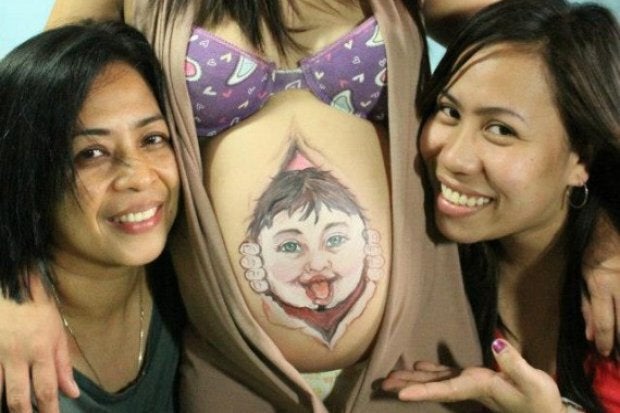 Baby bump painting might seem like a harmless way to pass time when you're expecting, but this laugh-out-loud collection of questionable belly artwork proves that not all mums-to-be are artistically gifted.
The craze first caught on back in 2011 when Mariah Carey tweeted baby bump selfies while pregnant with twins Monroe and Moroccan. The 44-year-old diva initially posted a cute picture of a butterfly daubed on her stomach, then posted an Easter-themed egg design a few weeks later.
After Mariah's fun pregnancy art drew plenty of attention on social media, legions of imitators sprung up to regale us with their own efforts.
When done well, baby bump painting can be beautiful, and the internet is bursting with examples of amazingly intricate designs. Face painters have even been drafted in to work their magic at baby showers, a US tradition gaining popularity on this side of the Atlantic.
However, not all mums-to-be are as creatively talented as Mariah - like any other art project, baby bump paintings can go horribly wrong. And when they do, it's hard not to laugh.
These brilliant pictures from Awkward Family Photos showcase the worst in baby bump art. Some of these attempts at decoration are merely misguided, while others are downright horrifying!
For instance, we have no idea why anyone would think a grinning baby peering out through a torn stomach was a cute idea for a painting!