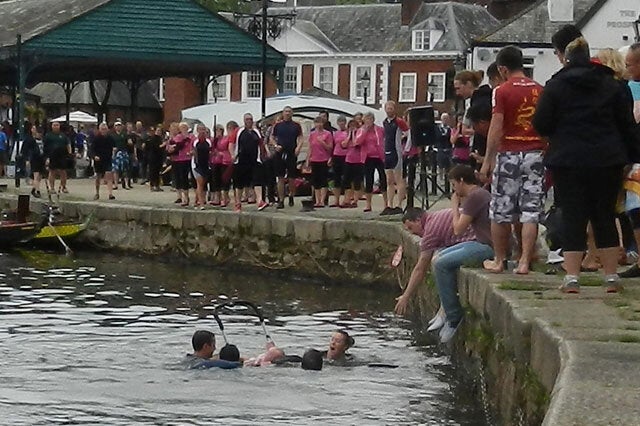 This is the dramatic moment a baby was rescued after her pram fell into a river.
The baby's mum was watching a dragon boat race in Exeter with her daughter when the baby's buggy tipped over and tumbled into the river in front of horrified bystanders.
Luckily, in this case, some of those bystanders were the strapping rowers of the Raging Dragons boat club, who lost no time in plunging into the water after the little girl's mum to help her save the child.
Victor Martinez, who was watching the race, told the Western Morning News that the rowers were first alerted by the scream of the baby's shocked mother. "At first I wondered why the woman was so worried about a pram, but then I saw the baby girl's arms flailing on both sides of the buggy," he told the paper.
The 51-year-old Londoner explained how he and rowers Stuart Menzies and Andy Travers battled to right the pram. "The buggy was sinking quickly and I dived down to get under it to try push it to the surface," he said.
"It was getting heavier and heavier, and me and my teammate Stuart Menzies, who jumped in after me, were struggling to push it up."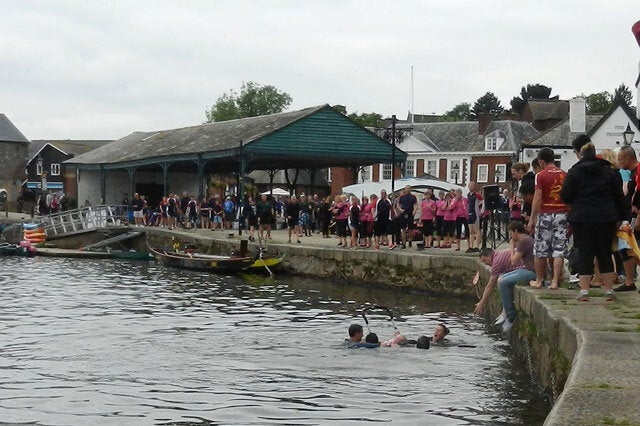 Images of the rescue show onlookers standing with their hands clasped to their mouths or covering their faces as they watch the dramatic scenes unfold.
"We managed to get her to the top and I was struggling to keep the buggy at the surface when I saw the girl's face for the first time - she was screaming and crying," Victor recalled.
i
I looked into her eyes which were full of river water and just thought that she wasn't going to drown today.
i
With the help of Victor's son, also named Victor, the pram was pulled up onto the quayside. The baby was soaked through, but unharmed, thanks to the quick action of the Raging Dragons.
After rescuing the baby, Victor waded back into the water to help her traumatised mum. He reassured the unidentified woman and helped her back onto the quayside, where she and her baby received first aid before being directed to hospital for a check-up.
The British Dragon Boat Racing Association was quick to praise the three impromptu lifeguards. "There was some serious additional drama when a pram complete with small child strapped in ended up falling into the river at The Quay," a spokesperson said.
"Thanks to some quick-thinking by Stuart Menzies, Vic Martinez and Andy Travers of Raging Dragons who jumped in to rescue the child and pram, it had a happy ending with the child seemingly ending up without a scratch, though a little wet."