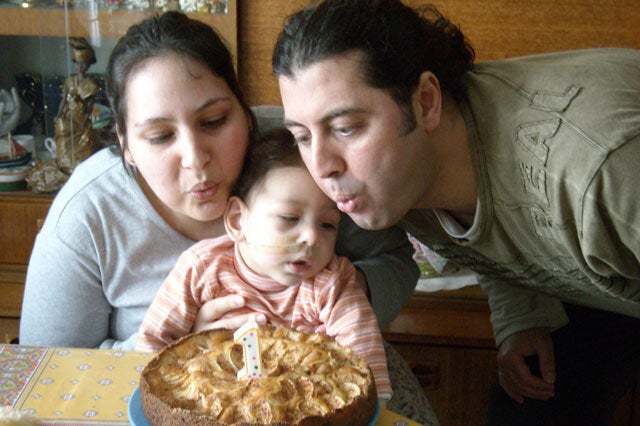 A boy was brain damaged at birth because doctors failed to give his mum simple antibiotics to fight an infection during labour.
Idriss Abrous contracted the bacteria, Group B Streptococcus (GBS) which left him with cerebral palsy and in need of 24-hour care.
But the High Court heard the damage could have been avoided if his mum had been given antibiotics.
Before Idriss's birth at Whittington Hospital in Archway on March 5, 2007, maternity staff had diagnosed his mum Olivia Amorim-Abrous as being a carrier of GBS, but no antibiotics were given.
Idriss was unable to cope with the infection and the stresses of labour, and his brain was starved of oxygen.
In 2011, Whittington Hospital NHS trust admitted failing to provide antibiotics or offer a Caesarean, and inadequate monitoring.
The High Court awarded Mrs Amorim-Abrous a seven-figure care package to look after Idriss.
The 36-year-old mum, who lived in Muswell Hill and is now in Paris, said: "As labour progressed I suffered fever and couldn't stop shaking. When Idriss was born he didn't make a sound and was blue. We'd like to see all pregnant women offered a GBS test, and more staff training."
GBS, carried by 30% of adults, is harmless until passed to foetuses or newborns, when it can cause meningitis or pneumonia and be fatal.
Nineteen countries including the USA and Australia offer all expectant mothers tests, but it is not mandatory in Britain.
Auriana Griffiths of Irwin Mitchell solicitors said the family had been left devastated. A spokesperson for Whittington Hospital NHS Trust said: "We're deeply sorry. We welcome the mutually agreed compensation package. We've made changes to ensure appropriate care is given to mothers."
For more information, visit Group B Strep Support at gbss.org.uk