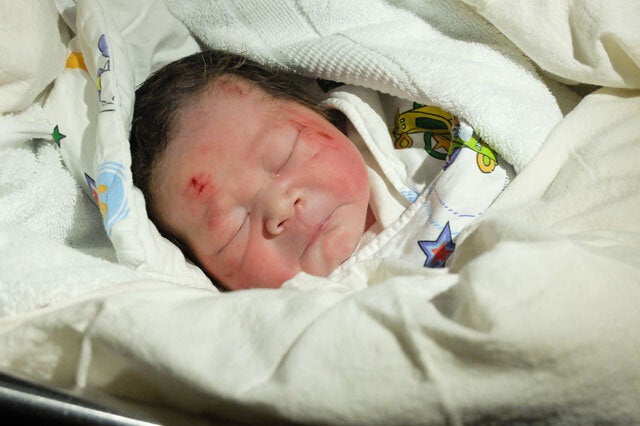 Witnesses to an horrific road accident claim a baby was 'thrown out' of his mother's belly by the impact, which killed both his parents.
The little boy, who has been named Xiao Zhao, was found three metres away from his mother's body and he only suffered minor bruises.
"Eye witnesses said that when the woman was hit by the truck she gave birth on the spot," said police spokesman Chan Chien.
"Others said that the baby had been thrown out of the woman's belly and had landed three metres away."
Xiao's parents, Wang Zhau, 40, and her husband Mao, 42, were travelling to hospital after she went into labour. They had decided to take their motorbike, rather than wait for an ambulance to arrive.
The couple, from the East Chinese city of Xiamen, were approaching a crossroad when they were hit by a heavy-duty truck causing them both to fall off the bike
Witnesses reported that the wheels of the truck then ran over the mother, who was killed instantly. Her husband died later at the scene.
Police confirmed that they arrested a 45-year-old truck driver, who is being held in custody.
Xiao weighed a healthy 9.2lbs and is said to be doing well.
Medic Kuan-Yin Fan said: "We don't see any risk that he will not make a full recovery from the minor injuries he suffered and can probably be released to his family some time within the next week should they agree to take him."
The hospital where the baby was staying has been surrounded by well-wishers bearing gifts and the Xiamen Charity Federation has donated 5000 yuan (£485) to the orphan.