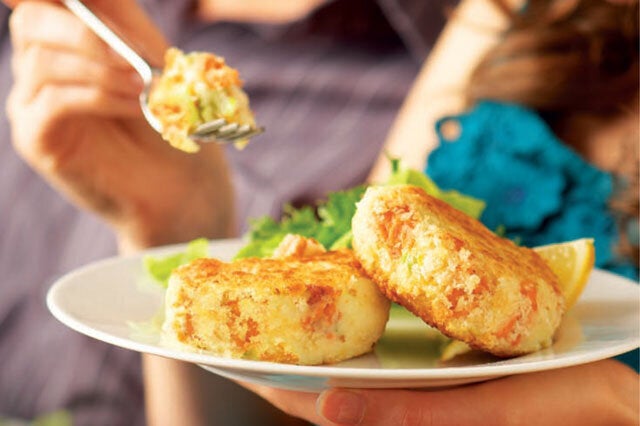 These tasty fish cakes are made using Omega-3 rich salmon. They take a while to prepare but can be frozen for up to a month, so it's worth making up a large batch and saving some for later.
Cook Time:>15 - 20 minutes
1lb/454g cold mashed potatoes
5 tbsp freshly chopped parsley
1oz/28g fresh wholemeal breadcrumbs
3 tbsp natural fromage frais
1. Preheat the oven to 200°C/400°F/Gas 6. Flake the red salmon into a bowl. Beat one of the eggs and add to the salmon with the mashed potato, 4 tbsp of parsley and some black pepper. Mix well, cover and chill for 30 minutes.
2. Divide the mixture into eight equal portions and form into fish cakes about 1in/2.5cm thick. Place on a baking sheet lined with baking parchment.
3. Beat the remaining egg, brush over each fish cake and sprinkle over a few breadcrumbs. Spray lightly with oil and bake for 15-20 minutes until golden and cooked through.
4. Meanwhile, prepare the tartare sauce. Mix together the fromage frais and Greek yoghurt. Finely chop the gherkins and capers, and add to the fromage frais mixture with the remaining parsley and some seasoning. Cover and chill until required.
5. Serve the fish cakes with the tartare sauce, lemon wedges and mixed salad leaves.