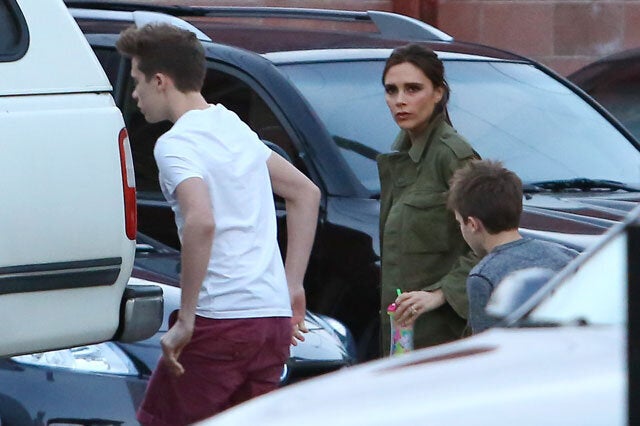 They look like any other family out for a night out together. Well, they would if it wasn't for the designer clothes, modelling pouts, expensive haircuts, extreme good looks – oh, and the fact they're called Beckham!
It's been a while since the whole clan have been seen out together because of the family's various commitments.
But on Monday, David, Victoria, Brooklyn, 15, Romeo, 11, Cruz, eight, and two-year-old Harper, were one big happy family as they got together at one of the fashion designer's favourite Beverley Hills' restaurants, Nobu Matsuhisa, after flying to LA from London.
The 39-year-old mum was seen clutching hold of Harper's colourful juice beaker as she headed towards the establishment and wore her hair in a loose pony tail.
The Beckhams arrived in the city on Friday and Cruz took up the gentleman's role by escorting his mother through LAX airport.
The former Spice Girl opted against wearing slouchy travel-wear for the journey, instead going for scarlet heels and an over-sized coat taken from her forthcoming pre-AW14 collection.