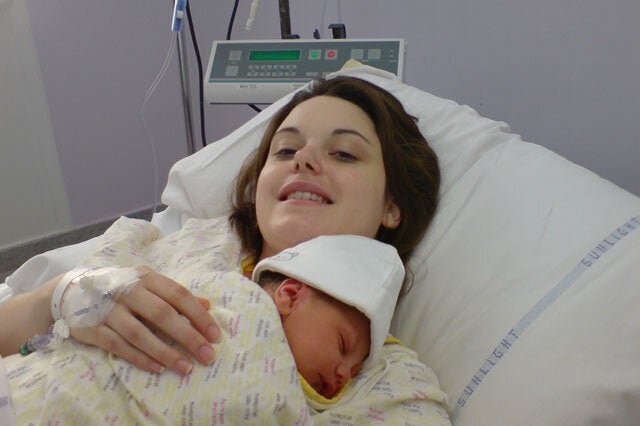 A mum who almost died during childbirth is urging everyone who knows a pregnant woman to consider donating blood.
Sherri Jamieson, 30, is a mum-of-two from Bury St Edmunds. It was while in labour with her first child, Spencer, who's now five, that she needed an urgent blood transfusion.
"Without blood donors, my baby would have been made motherless on the day he was born," Sherri tells Parentdish.
"I never thought someone like me - who is young, fit and healthy, and just having a baby – would need a blood transfusion, but it goes to show it could happen to anyone.
i
Everybody knows someone who will become a mum, and it's important the blood's there for them, just in case. That's reason enough to give blood.
i
The NHS needs up to 120,000 blood donations each year across England and North Wales, just for women in childbirth or neonatal babies. This is around 7 per cent of the overall amount of blood needed by hospitals annually.
NHS Blood needs 118,000 first time donors this year to replace those who can no longer donate. This becomes especially necessary in summer time as people often get distracted, with their attention turning to other things, such as the World Cup.
During a previous international football tournament, the number of blood donations collected on England match days fell by up to 5 on the day following the game.
i
Giving blood only takes about an hour," says Sherri. "And someone taking that hour out of their life, has given me the rest of my life.
i
Sherri didn't have any complications during her first pregnancy and she was expecting the birth to go just as smoothly. But after three days in labour she was taken to theatre for an emergency Caesarean as her baby was showing signs of distress.
"I didn't have time to really think about what was happening," says Sherri. "Suddenly it was an emergency situation and everyone came rushing in and I was wheeled off down the corridor."
"It was quite scary but I was weirdly calm," she said. "I don't remember much, but I do know that when they got Spencer out, I was worried because he didn't cry.
"I felt sick and dizzy and just wanted to go to sleep, but the anesthetist's assistant started asking me questions like when was my birthday, and whether I knew what day it was, which I thought wasn't a good sign.
"I don't think anyone told me I was going to have a blood transfusion. I just remember feeling a pain in my hand and when I looked to see what it was I saw the bag of blood with a label saying 'O negative.'
"I thought they'd given me the wrong blood, because I'm A positive, but now I know that they can use O negative in an emergency."
Sherri had hemorrhaged from her uterus and lost two and a half litres of blood.
"One of the midwives said that I lost about half the blood in my body," she says. "It took over two hours to get the bleeding to stop."
Sherri was sent to recover in the Critical Care Unit where, eight hours after he was born, Spencer was brought for his first cuddle with his mum.
He was exhausted from the lengthy labour and had swallowed quite a lot of meconium, but after having his airway cleared, he recovered well and five days later he and and Sherri were allowed home.
i
At the time I didn't really take in the seriousness of what had happened," admits Sherri. "But looking back I thought, crikey, if I didn't have that blood I wouldn't be here and Spencer wouldn't have a mum on the day he was born.
i
"My dad has donated blood lots of times over the years. I think he's up to 49 pints now. I went with him once when I'd just turned 18. It's a bit embarrassing but I fainted and I woke up on the bed next to my dad and he was going: 'Yeah, she's mine.'
"I feel rubbish that I've never donated, especially now. I really want to give blood to say thank you for what somebody has done for me, but I can't because once you've had a blood transfusion you're not allowed to donate.
"So I convinced my partner Graham to give blood for me. He was reluctant at first but he's O negative so I told him he's in demand!
"I've also persuaded a friend's husband as well, because she's pregnant at the moment and I seriously think it's something everybody should consider doing."
To find out more information and to register to become a donor, please visit www.blood.co.uk or call 0300 123 23 23.