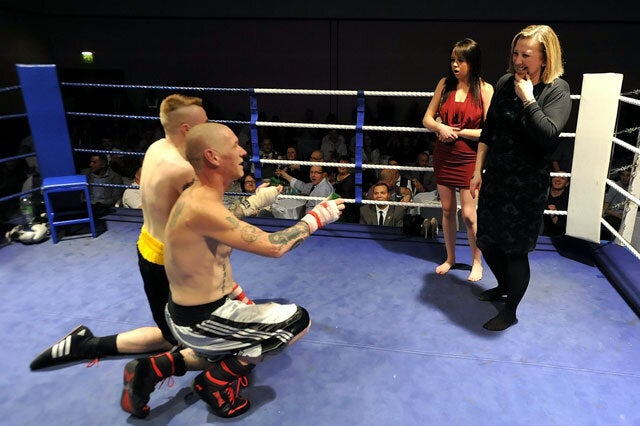 The sweaty canvas of a boxing ring might not sound like a romantic location, but it became the scene of a truly unique wedding proposalwhen two prizefighters called their girlfriends into the ring to pop the question.
Friends Adrian Firkins, 44, and 24-year-old Rick Welsby came face to face in a lightweight match before a crowd of hundreds at the Copthorne Hotel in Dudley, West Midlands, and after three rounds the match was declared a draw.
Then the evening took an unexpected turn. Instead of retiring to their corners, the battered pair remained in the ring as promoter Pete Jackson asked Adrian's partner Debbie Tyler, with whom he has two children, and Rick's girlfiriend, Nikki Vyse, to join them on the canvas.
The ladies were under the impression they were simply going to pose with their bruised boyfriends, but when the two men dropped down onto their knees it quickly became clear that they had planned something special.
While the audience clapped and cheered, the panting pugilists produced boxes containing engagement rings. The ladies were initially stunned, but both of them recovered enough to say 'yes' - drawing a standing ovation from the crowd.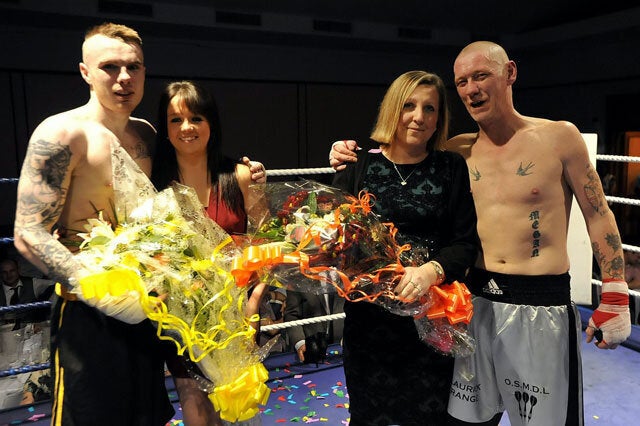 The plan was the brainchild of warehouse worker Rick, a semi-professional boxer. "I had been planning it for months but she didn't have a clue," he told the Daily Mail. "She was shaking and I was so happy she said yes."
When dad-of-two Adrian heard about the idea, he decided to make it a joint effort by finally popping the question to his partner of 16 years.
He recognised that such an unusual proposal came with its own risks: "I'm glad I got through it and didn't get knocked out, otherwise I wouldn't have been able to propose to Debbie."
Rick later took to Facebook to thank the organisers who helped arrange the special scene, but he didn't forget to thank the most important person of all - his 22-year-old fiancee.
"I would just like to say a massive thank you to everyone who brought tickets and came to support me Friday night , and everyone involved, really appreciate it and a big thank you to my new fiancée Nikki Vyse for saying yes!"