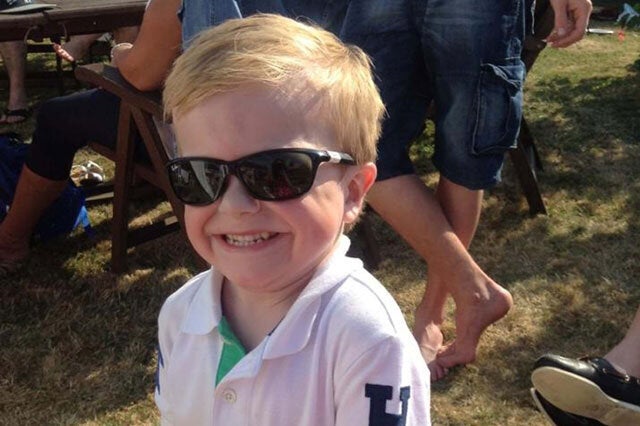 Many of us have put on our sunglasses today as Britain basks in one of the hottest days of the year.
But six-year-old Harry Beardsell wears his shades every day, come rain or shine - because he can't bear daylight.
Harry, from Canvey Island, Essex, suffers from a rare condition called cystinosis, which causes crystals to form in his eyes, making the glare of normal daylight unbearable - even on a relatively dull day.
His condition is so painful that the family have fitted tinted windows at home to make Harry's life more bearable.
His mum Nicola Watts, 33, said: "Harry has to be careful all year round to keep his eyes protected, but he has to take extra care in the summer.
"He will wear a hat and glasses whenever he leaves the house, or the glare of the light would be unbearable.
"Before he wore them, being in the sun was absolute agony for him - walking on the beach near our house was out of the question.
"Harry once told me that he couldn't wait until he was older and didn't have to wear the sunglasses anymore, but I gently explained that it wasn't going to work like that.
"He never complains, he just accepts it - he's a lovely little boy."
Harry has been living with his condition since he was nine months old.
Today he's a happy six-year-old boy, but must take 13 different types of medication every day. He also uses eye drops which to try and break down the crystals.
Jonathan Terry, 51, the founder of Cystinosis Foundation UK and the oldest person with the condition outside of the U.S., said: "Cystinosis is a condition where the sufferer cannot break down the cysteine amino aside.
"A normal person can excrete this acid, but for people with the condition, the acid attacks every organ in the body, particularly the kidneys, liver and pancreas.
"Most patients will have to have a transplant by the time they are seven or eight or they will most likely die.
"Many, like Harry, will have to wear glasses because the crystals of the acid build up in the cornea and magnify the light in all directions like a diamond would.
"It makes glare of normal daylight unbearable - even on a relatively dull day it would seem bright."