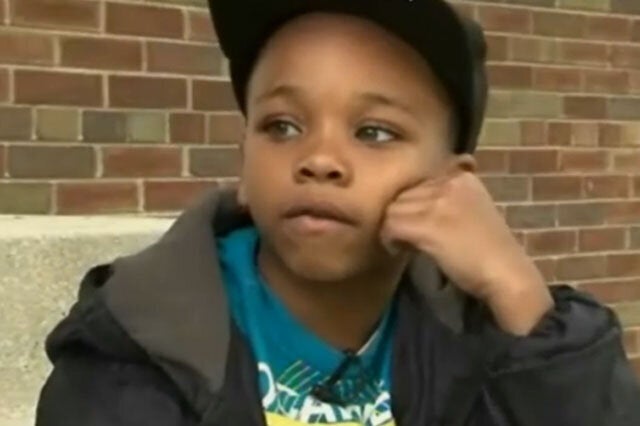 A plucky six-year-old boy rescued his 10-year-old neighbour after she was seized by a stranger while playing in the street.
Kaylen Woodard was riding his bike and Marcy Jones riding her scooter after school outside their home on Chicago's South Side, when a white convertible pulled up alongside the 10-year-old girl.
Without warning, a man sprang out of the vehicle and grabbed Marcy, clapping a hand over her mouth to stifle her screams.
It sounds like the start of every parent's worst nightmare, but, luckily, this time the terrifying drama had a happy ending thanks to the quick-thinking bravery of young Kaylen.
The boy rushed to his friend's aid, throwing himself on the stranger and bombarding him with kicks.
"He tried to hold her mouth," Kaylen told reporters. "The only way she got away is because I kicked him in the back of the leg and the outside of his leg."
While the stranger was distracted by Kaylen's fierce attack, Marcy managed to struggle free and both children fled to their homes, just yards from the scene of the attempted abduction.
Marcy's mother, Tracey Edwards, explained that when she went to the front window of the family home to check on her daughter, she saw her running up the street towards the house in panic, clutching her scooter.
When Marcy explained what had happened, her mother rushed into the street to look for the suspect, but he had already fled in his car. Tracey called the police at once, as did Kaylen's mother, Diana Blakely.
"We call him our little hero. We are blessed that he was there," a grateful Tracey told CNN.
Kaylen's mum was also keen to praise her son's bravery in foiling the attempted abduction. "I'm very proud of him," she beamed. "I can't stop talking about him... him being so young and he did that for a friend. That's amazing."