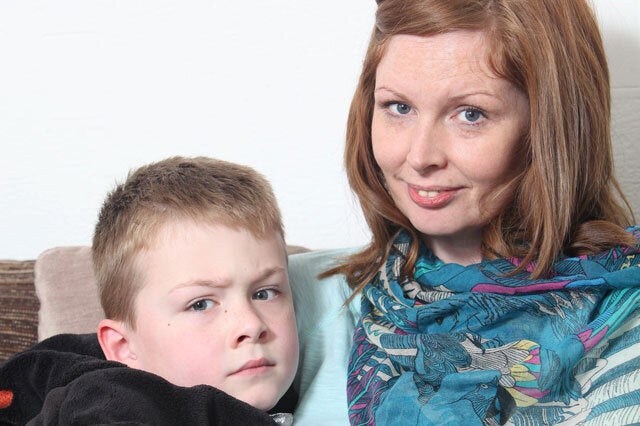 A mum is battling to educate her six-year-old son after he was kicked out of two primary schools for his 'Hulk-style meltdowns' in class.
Michelle Cartlidge has resigned from her job as a social worker to home-school her son Luca after he was expelled from one school and excluded from another in Newcastle-under-Lyme, Staffordshire, over his behaviour – which included making threats to staff and punching a teacher.
She is now appealing for the local education authority to appraise him to see if he needs to attend a special school. This process began after he was referred to the Staffordshire County Council assessment unit on March 28.
Michelle told her local paper: "He can quickly go into a temper and he is like The Hulk. That can last anything from 10 minutes to one hour. He goes bright red and he could be capable of murder during them and he wouldn't know.
"He then goes really pale afterwards and he is always really apologetic but he can't seem to control it. He needs help but the school's approach is to punish him."
Luca, who started school 18 months ago, was expelled from St Chad's Church of England Primary School last September after running away during a sports day at the start of term and leading teachers on a two-mile chase through the streets before they finally caught him.
Before that, he had been sent home 10 times and was put into isolation on two occasions after he made threats to staff and pupils.
One member of staff was left so traumatised the teacher refused to teach Luca again and even threatened to quit if forced to have the youngster in their class.
He was then transferred to Friarswood Primary School in the town in January but was excluded for three days last month for trying to punch a teacher.
After his mum pleaded with the school to allow him back in, Luca is now taught for two hours a day by a teaching assistant. Michelle is also home-schooling him while she appeals for help with her son.
She said: "At St Chad's he had only been there a week in September when he got excluded. He was usually hitting teachers and pupils because he was having one of his meltdowns.
"Although he's loud himself, he doesn't like loud noises and he can't cope with large numbers of people. He would hit out, at other children and his teachers.
"He was sent home about 10 times and excluded twice but he was finally expelled a year after he started when he ran off on sports day.
"He got out and was running off down the road. He was then out of school for three months. I did have home schooling, a teacher came for one hour a day but then they refused to come.
"He started at Friarswood but he has been excluded from there. I have had to leave my job to teach him at home but I am worried his education is suffering.
"Ultimately, I would now like Luca placed at a special school with staff geared up to meet his needs as he is not coping in mainstream education.
"It has been a nightmare. When he was 18-months-old, he stopped sleeping and he would rock and shout all night long, that was the first I noticed he was different. Everything has to be on routine with Luca, or he has a meltdown."
Staffordshire County Councillor, Ben Adams, Cabinet Member for Learning and Skills said in a statement:
"We are committed to ensuring that all children and young people with special educational needs and disabilities receive the help they need at the right time and in the right manner.
"Our Special Educational Needs team received a request for a statutory Assessment for Luca on 28 March 2014 and we are working with the family and school to determine what help he needs."
A Friarswood Primary School spokesman said: "Since Luca started in January we have been working hard with County Council, behaviour and education specialists to find the best way forward.
"In the meantime Luca is being taught for up to two hours every day in class alongside other children, with one-to-one support."