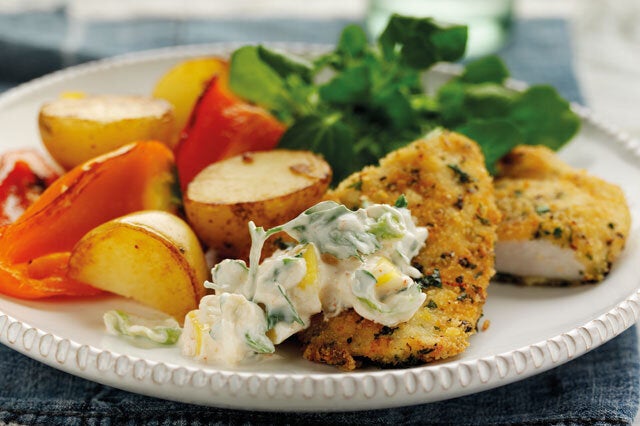 With this simple recipe you can whip up a tangy garlic-flavoured version of the classic chicken schnitzel.
2 x 200g skinless chicken breasts
25g bunch flat leaf parsley, finely chopped
1 tsp peppercorns, crushed
Finely grated zest of 1 lemon and juice of 1/2 a lemon
2 peppers, deseeded and cut into chunks
500g baby potatoes, cooked
1 medium mango, peeled, stoned and diced
1/4 tsp cayenne or hot chilli powder
3 spring onions, finely chopped
1. Heat the oven to 200°C /Gas Mark 6 and put a wire grill rack on a baking tray. On a chopping board, slice the chicken breast in half horizontally. Cover each piece with a sheet of clingfilm and flatten with a rolling pin to an equal thickness.
2. Mix 3 tbsp yoghurt with garlic, add the chicken and mix well. On a shallow plate mix together half the parsley with the breadcrumbs, peppercorns and lemon zest. Dip the chicken into the crumbs to lightly coat on each side.
3. Heat a large frying pan over a medium-high heat. Spray with oil and add the chicken fillets. Cook for two minutes until golden, then turn and cook for a further one to two minutes. Transfer to the wire rack and repeat with the remaining chicken. Bake for 10 minutes.
4. Place all the chicken on the wire rack and bake for 10 minutes.
5. Meanwhile, wipe the frying pan clean and spray with oil. Add the peppers and potatoes and fry for six to eight minutes, tossing occasionally until golden.
6. To make the mango salsa: In a bowl mix together the remaining yoghurt and parsley with the lemon juice, mango, cayenne and spring onions.
7. Serve the chicken with the peppers and potatoes, watercress and the mango salsa.