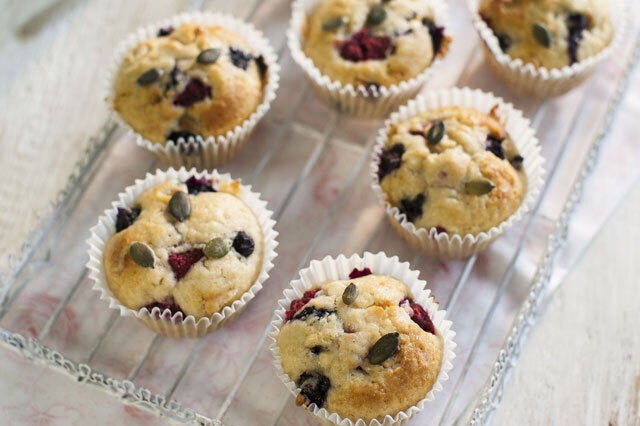 Fruity breakfast muffins

by

Eric Lanlard
These easy-to-make berry and white chocolate muffins can be made the day before Mother's Day, ready to plate up for a quick breakfast in bed treat.
Serve them with a dollop of Greek yogurt or fromage frais.
Prep Time:20 minutes
Cook Time:30 minutes
Serves:
4
50g unsalted butter, melted
100g white chocolate chips
1. Heat oven to 180°C/160°C fan/Gas Mark 4. Line a muffin tray with paper cases.
2. Sift flour and baking powder into large bowl and stir in sugar.
3. In a separate bowl whisk together egg, Nielsen-Massey Vanilla Bean Paste, milk and melted butter. Stir the liquid mixture into the dry mixture and beat until smooth. Fold in the white chocolate chips and half the fruit.
4. Fill each muffin case with mixture. Bake for 30 minutes until golden. Leave to cool.
5. Using a fork smash the rest of the berries roughly and spoon them on top of the warm muffins.