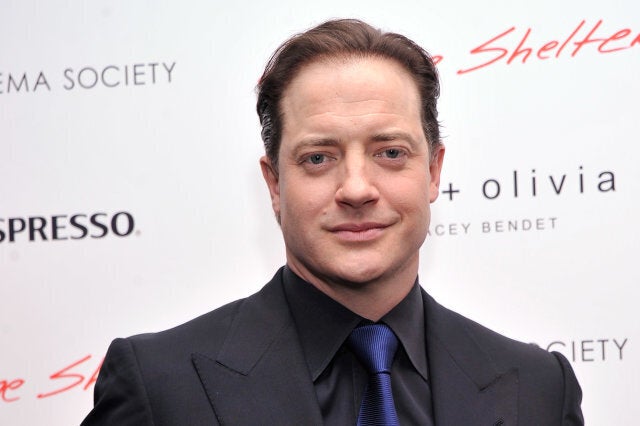 Escape From Planet Earth, released in UK cinemas today, is an inter-galactic family comedy following brothers Scorch Supernova - a slick, handsome hero on the Planet Baab - and his nerdy brother, Gary. Lending their voices to the animated adventure are Brendan Fraser, Rob Corddry, Jessica Alba and Sofia Vergara.
Ahead of the film's UK release, we spoke to star Brendan Fraser about why his three sons Griffin, 11, Holden, nine, and Leland, seven, think he's a 'big doofus' but marked his birthday by putting on their own version of George of the Jungle.
Where are you talking to us from today?
I am seated in my chilly little home office in Westchester county, New York, overlooking a lot of frozen landscapes. I have a giant Guinness mug that I got while I was working in Belfast and it's filled with mint tea because it's freezing!
Escape from Planet Earth is released in the UK today. Can you tell us a bit about your character, Scorch Supernova?
Scorch Supernova – great name – is an overconfident local hero on the Planet Babb. He's a combination of sports enthusiast, over-all good guy, kind of a hero despite his faults. But the truth is that he's the brawn, not necessarily the brains – that's his brother, Gary.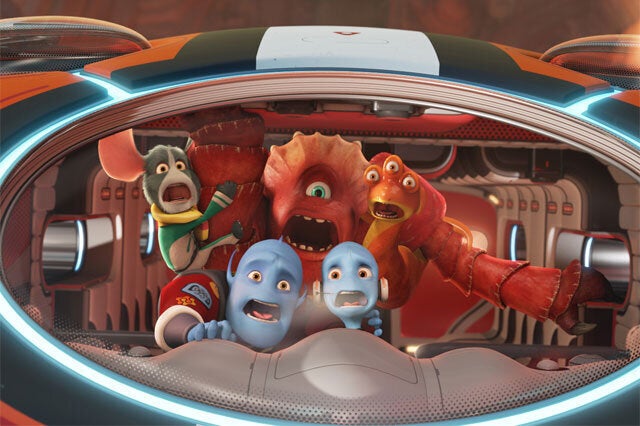 Who do you have more in common with – are you a Scorch or a Gary?
I'm a Scorch guy! I want to be a Gary guy, but... well, I have an inner Gary. Actually, you know what? I've got a Gary guy and a Scorch guy.
So you're brains and brawn?
Come on, look at me! I'm 6ft 3 and I get paid to run around and fall down. Gimme a break!
You've done a few animated films in recent years – what is it about voice work that attracts you?
Working in animation's unique because you are a part of a collaboration. What the recording artist gives inspires how the character will be shaped.
What I like about it is there's no make-up call, you can stand around in your jeans, there are no mistakes – the microphone is usually left running all day, so if you get a really good or funny take, it's there. And then you walk away, everyone feeling good, and months later you can tidy it up a little and presto, magic - you've put a voice to the animation. The patina of that never wears off.
A lot of actors say they make family films because they like to have a movie they can watch with their kids. Does that influence your choices? (Brendan is dad to boys Griffin, 11, Holden, nine, and Leland, seven)
The choices that I've made range from wanting bragging rights to doing Escape from Planet Earth so my kids can think I'm a big doofus (laughs).
Have you shown your kids your older films?
My kids don't really talk about them. Actually, that's not true. They did a little pantomime of me, a retrospective of my career – they came out in little football helmets and smashed into each other, and they put on George of the Jungle muscle shirts and a big, curly wig, a gorilla suit. The funny thing was, all the characters, to them, all had fabulous hair.
I had my 45 last year, and that was the best birthday gift I got. I realised everything I've ever done has all been worth it! I'm Teflon-proofed now.
You speak fluent French – have you ever been asked to dub any of your characters for the French release?
The thing is, my French is French Canadian and when speaking it whilst in France, normally people wince a bit. Someone made the analogy that it's like speaking English when you're from Louisiana and talking to someone from Washington DC – it's completely different. Same, but different.
Are you planning on visiting the UK to promote the film?
I would like to, just for pleasure. I haven't been to London in... too much time has passed, gosh, has it really been that long? I did Cat on a Hot Tin Roof on the West End over 10 years ago and that's one of my favourite memories of my time spent in this career.
Travelling to the UK has been highly influential in my life – when I was very young, my family lived in Holland and we would take the sea link over to London and that's when I first started to see plays and musicals on the West End. Yeah, and I think it stuck – I remember them vividly, for sure, it was highly influential to me.
Escape From Planet Earth is out in 2D and 3D in UK cinemas today, rated PG. Check out the trailer below.